Damar Hamlin established the Chasing M's Foundation in 2020 by filing a two-page Articles of Incorporation with the Pennsylvania Department of State.
He wrote about the entity's mission: "Providing scholarships and promoting education for High School and College athletes."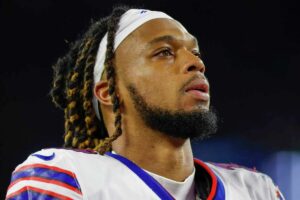 UPDATE (Jan. 7): Hamlin's GoFundMe surpassed $8 million in donations Friday.
But that seemed to be almost an afterthought. On December 14, 2020, Hamlin launched a GoFundMe campaign for his foundation's first initiative: a $2,500 toy drive for his mother, Nina's, daycare facility.
On the GoFundMe campaign page, Hamlin wrote: "As I embark on my journey to the NFL, I will never forget where I come from and I am committed to using my platform to positively impact the community that raised me."
The horror of Hamlin's medical emergency Monday night at Cincinnati's Paycor Stadium prompted millions of dollars to pour into Hamlin's two-year-old GoFundMe campaign.
Less than 18 hours after Hamlin's on-field cardiac arrest, his foundation had raised more money ($4 million) on GoFundMe than the entire value of his current four-year contract with the Bills ($3.6 million).
Instead of chasing millions, Hamlin's charity must now figure out how to deal with them as they arrive.
Chasing M's went from a college kid's modest toy drive to a serious, seven-figure operation overnight, all while its principal was medically sedated in a hospital room.
As a result, Hamlin's family and management, in collaboration with GoFundMe, must now figure out how to handle the unexpected outpouring of financial support while also bringing the foundation into compliance with state and federal regulations.
A spokesperson for GoFundMe told Sportico in a statement: "We are in touch with representatives for the family, and our Trust & Safety team is working to help ensure funds are safely delivered."
The crowdfunding platform confirmed that the funds would be directed to Chasing M's Foundation. Jaster Creative, Hamlin's marketing team, did not respond to requests for comment, but posted an update on GoFundMe on Wednesday afternoon after the campaign passed the $6 million mark.
"We will also work with GoFundMe to email all donors with more specifics regarding the use of funds as those details are available," the update stated. "The foundation supports toy drives, back-to-school drives, kids camps, and more. We're hopeful about Damar's future involvement in disbursing the incredibly generous contributions."
Prior to the COVID-19 pandemic, another NFL player, J.J. Watt, organized the largest GoFundMe campaign. Watt's charity was a 501(c)(3) organization at the time (3).
Chasing M's, on the other hand, retains the organizational sophistication and rigor befitting an unpaid NCAA athlete—rather than an NFL starter, let alone one who has unexpectedly, and tragically, been trending worldwide on Twitter. For starters, Hamlin's foundation is a Pennsylvania nonprofit corporation rather than a federal nonprofit charity. (As a result, donations to his GoFundMe page should not be tax deductible, according to experts.)
The charity's official address is Hamlin's parents' home in McKees Rocks, a town of about 6,000 people in western Pennsylvania. Chasing M's LLC, a for-profit company founded by Hamlin in 2017, also has the same address.
According to legal experts who spoke with Sportico, the nonprofit Chasing M's original stated purpose—high school and college athlete educational assistance—could become a potential sticking point.
This specific language is still legally relevant under Pennsylvania's charity laws, which hold organizations accountable to their stated purpose and give the state's attorney general the authority to investigate how the money is spent. The AG's office confirmed to Sportico late Wednesday that the GoFundMe was within its jurisdiction in a statement.
"Our office's concern focuses on ensuring that any donations collected are used for the purposes that were represented to the donors," Deputy Attorney General Mark Pacella said in a statement. "The donations received by GoFundMe obtained on behalf of Damar Hamlin are subject to the Pennsylvania Solicitation of Funds for Charitable Purposes Act as it applies to all Internet fundraising campaigns when the charity and/or the fundraiser is located in Pennsylvania."
On Tuesday, Jaster Creative posted an initial update to the GoFundMe campaign, requesting donations for "Damar's community initiatives and his current fight," implying that some of the funds could be used by Hamlin. That language, however, was later removed. Given its charitable representations, experts believe Hamlin would be ineligible to receive funds donated to this campaign.
Nonprofit corporations in Pennsylvania are prohibited from providing any "incidental" income to members, directors, or offices, despite being held to less stringent standards than registered charities.
According to its charter, Hamlin is the sole incorporator of Chasing M, and the company has no members. It is unknown if the entity has a Board of Directors; this information is not required to be filed with the state, but it may be. If there isn't a board, it could lead to a bigger headache, one that may need to be resolved in court.
If a nonprofit corporation receives more than $25,000 in a given year, Pennsylvania requires it to register as a charity. Given the breadth of its donors, Chasing M's will almost certainly be required to register as a charity in the majority, if not all, of the 38 states that currently have such requirements. For example, under New York law, out-of-state charities must register if they receive more than $25,000 from New York residents.