Damar Hamlin was in critical condition in a hospital after suffering cardiac arrest during a Monday night game against the Cincinnati Bengals.
Hamlin's heart stopped beating after being hit during a first-quarter play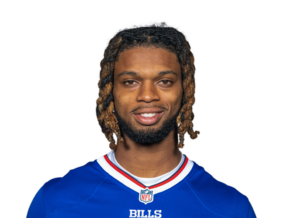 UPDATE (Jan. 8): Hamlin is breathing on his own and communicating with family, doctors, and teammates.
UPDATE (Jan. 7): Damar Hamlin's breathing tube was removed overnight, and he's spoken to his teammates via video, the Bills said Friday morning.
UPDATE (Jan. 6): Doctors said Thursday that Damar Hamlin is awake in a Cincinnati hospital, neurologically sound, and moving his hands and feet.
"Did we win?" Hamlin scribbled on a clipboard.
"Yes, Damar, you won. You've won the game of life," Pritts said at a news conference in Cincinnati Thursday afternoon.
UPDATE (Jan. 5): The Buffalo Bills provided an update on Damar Hamlin on Wednesday, saying he is still in critical condition but showing signs of improvement. He is expected to remain in intensive care.
UPDATE (Jan. 3): Damar Hamlin is still sedated and being ventilated at UC Medical Center.
The Bills said Hamlin's heartbeat was restored on the field before he was taken to the University of Cincinnati Medical Center, where he was undergoing "further testing and treatment" and had been sedated.
On Monday night, about nine minutes into the game, Hamlin tackled Bengals receiver Tee Higgins after a 13-yard catch. Higgins slammed into Hamlin at full speed, striking him in the head and chest. Hamlin stood up quickly, took two steps backward, and his body went limp.
Medical personnel performed CPR on him for 10 minutes while players from both teams were visibly upset, with some crying on the sideline while others circled together and knelt in prayer. One medical professional was seen inserting an IV. Hamlin was later transferred to the hospital on a stretcher.
Fans at Paycor Stadium, who had been mostly silent throughout the ordeal, applauded as the ambulance drove away.
Millions of viewers tuned in to ESPN's "Monday Night Football" broadcast witnessed Hamlin's collapse. Play was halted for more than an hour before the National Football League announced that the game had been rescheduled.
Troy Vincent, the N.F.L.'s executive vice president of football operations said: "Neither coach was talking about resuming play, the players were not thinking of resuming play, how do you resume play after seeing such a traumatic event?"
The NFL Players Association stated in a statement that it had spoken with players from both teams as well as the NFL: "The only thing that matters at this moment is Damar's health and well being,"
Within hours of his hospitalization, Hamlin's charitable foundation's toy drive had raised more than $3 million through a crowdfunding website.
Players from across the NFL quickly voiced their concern on social media.
Kansas City quarterback Patrick Mahomes announced the news on Twitter: "Praying hard… please be okay man,"
J.J. Watt of the Arizona Cardinals wrote a post about it: "The game is not important, Damar Hamlin's life is important. Please be ok. Please."
Meanwhile, Josh Allen, quarterback for the Buffalo Bills, wrote: "Please pray for our brother."
A crowd of about 100 football fans gathered outside the University of Cincinnati hospital to learn more about Hamlin's condition.