Dorrian Glen, Hamlin's uncle, told CNN that doctors flipped him on his stomach to relieve pressure on his lungs. Damar Hamlin is still sedated and being ventilated at UC Medical Center.
After collapsing on the field on Monday night, Hamlin is still in critical condition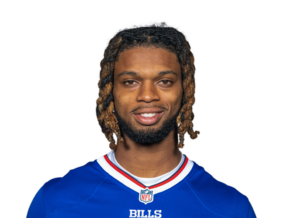 UPDATE (Jan. 6): Doctors said Thursday that Damar Hamlin is awake in a Cincinnati hospital, neurologically sound, and moving his hands and feet.
UPDATE (Jan. 5): The Buffalo Bills provided an update on Damar Hamlin on Wednesday, saying he is still in critical condition but showing signs of improvement. He is expected to remain in intensive care in hospital.
Meanwhile, Hamlin's uncle warned that he is still not breathing on his own and has lung damage.
The prognosis of the 24-year-old Bills safety, who technically died last night in front of an unsuspecting audience of horrified eyes, is at the heart of all the grief and goodwill.
Glen said: "He's still here, he's healing right now. Like I said, they sedated him just to try to give him a better chance to continue to heal better. Just taking it day by day, and it seems like he's trending upwards in a positive way and thank God for that."
A vigil is set to begin at 8:55 p.m. which is the same time Damar Hamlin collapsed on the field during the game on Monday night.@FOX19 pic.twitter.com/nPsvUZt9P4

— Payton Marshall (@paytontvnews) January 4, 2023
Glen described Hamlin's cardiac arrest as unexpected. He stated that Hamlin had no prior heart issues that he was aware of and that he was "healthy as an ox."
He also revealed that Hamlin died and had to be resuscitated twice, once on the field and once at the hospital.
"I just want to express my gratitude to the medical staff that was on hand. If not for them, my nephew probably wouldn't be here, and I mean that from the bottom of my heart. We thank them." Glen added.
Hamlin's mother and father have been by his side throughout. Glen stated that they are heartbroken. "This is just devastating."
It's also been a difficult day for those who arrived Monday night for a football game and left with the kind of wound that only public trauma can leave.
Not long after Hamlin arrived by ambulance, an impromptu prayer circle formed outside UC Medical Center. On Tuesday at noon, a church service was held for him less than a mile away from his hospital bed.
Powerful images of the prayer circle for Damar Hamlin outside UC Medical Center. Blue and orange colors flicker together in the candlelight. There's shock, heartbreak and an undeniable sense of trauma. Everyone is hoping and praying that good news will come in the morning. pic.twitter.com/HRyXsaHQo1

— FOX19 NOW (@FOX19) January 3, 2023
Fountain Square, the Fifth Third Bank building, Great American Ball Park, the Duke Energy Convention Center, Procter and Gamble, Great American Tower, Paycor Stadium, and other buildings are lit blue throughout Downtown Cincinnati.
In just a few hours, Hamlin's toy drive fundraiser received more than $5 million in donations.
Glen expressed gratitude to the people of Cincinnati for their support.
"Everyone's been so nice out here," he said. "Everyone I've gone up to has asked, 'Do you need anything?' Giving me prayers and wishes, and it really means a lot to our family dealing with this, because no one expected this to happen, but knowing you've got that circle of support to help you get through it, it helps a lot."
"Because, I really believe those are making a difference for him to have the full recovery we're all hoping and praying for and expecting."