Hamlin collapsed to the ground during a game against the Bengals at Paycor Field in Cincinnati. After regaining his feet, Hamlin fell backward and remained there for more than ten minutes while medical personnel performed CPR.
There is no definitive word on Damar Hamlin's current situation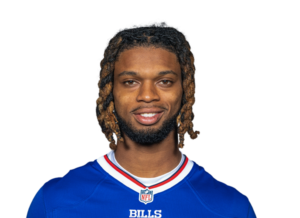 UPDATE (Jan. 8): Hamlin is breathing on his own and communicating with family, doctors, and teammates.
UPDATE (Jan. 7): The Bills announced Friday morning that Damar Hamlin's breathing tube had been removed overnight and that he had spoken to his teammates via video.
UPDATE (Jan. 6): Damar Hamlin is awake in a Cincinnati hospital, is neurologically sound and is moving his hands and feet, doctors said Thursday, news that has drawn relief and joy from supporters nationwide days after the 24-year-old's in-game cardiac arrest.
UPDATE (Jan. 5): Damar Hamlin remains in critical condition with signs of improvement, the Buffalo Bills said in an update Wednesday. He is expected to remain in intensive care.
UPDATE (Jan. 3): According to Hamlin's uncle, doctors flipped him on his stomach to relieve pressure on his lungs at UC Medical Center, Damar Hamlin is still sedated and being ventilated.
UPDATE: Hamlin is currently sedated and listed in 'critical condition'.
Monday night's game was postponed after Hamlin, a second-year safety, collapsed on the field in the first quarter after making a hard tackle on Bengals receiver Tee Higgins.
According to the NFL, the 24-year-old is in "critical condition." That came after the competition had already been canceled for the night.
We also discovered a social media update from a friend. Jordon Rooney, who claimed to know Hamlin personally, provided the following information:
Update on Damar:

His vitals are back to normal and they have put him to sleep to put a breathing tube down his throat. They are currently running tests.

We will provide updates as we have them.

— Jordon Rooney (@jordonr) January 3, 2023
Rooney's relationship appears to be going well on other social media channels. He previously posted a TikTok video of himself at a "brand shoot" with Hamlin.
The league has made no further announcement on the future status of a game that has taken a backseat to Hamlin, who is in critical condition. Meanwhile, per a statement from one of his representatives, his vitals are stable, but the 24-year-old has been placed on a breathing tube.