Jimmy Garoppolo will not be the starting quarterback for the 49ers in the playoffs even if he is cleared by the team's medical staff.
If Jimmy Garoppolo comes back for the playoffs, San Francisco will sit him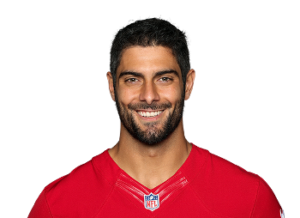 ALSO READ: "Tom Brady is a dirty old man." after watching Tom Brady play, some fans think so
Given that the soon-to-be free agent may not be given the green light to return from the foot injury he sustained in Week 13 against the Miami Dolphins, it seems likely that we have seen the last of quarterback Jimmy Garoppolo in a San Francisco 49ers uniform.
Even if Garoppolo is healthy enough to return to action during the Niners' current playoff run in the NFL, he won't be given the nod to start again.
Rookie quarterback Brock Purdy has ridden a wave of success for San Francisco since replacing the injured Garoppolo earlier in the season. Purdy is currently undefeated.
With Purdy, the 49ers' former Iowa State quarterback and the last overall pick in the 2022 NFL Draft, at the helm, the team has a good chance of making a deep playoff run and ultimately winning the Super Bowl.
Additionally, it seems that Purdy has ruled out the possibility of Garoppolo regaining his starting job if he were to recover from his injury.
SEE MORE: Cowboys' President Jerry Jones answer when asked about Brett Maher
Jimmy Garoppolo lost 49ers' QB job to Brock Purdy, won't start NFL playoffs if healthy
Injury can cost a veteran a starting spot, but it's rare. Niners fans may remember how a concussion midway through the 2012 season cost Alex Smith his starting job to Colin Kaepernick.
According to Fox Sports' Jay Glazer, Garoppolo, who'll likely leave San Francisco for a guaranteed starting role in 2023, will only play in the postseason as Purdy's backup:
Jimmy Garoppolo is eager to get back but Brock Purdy will remain as the starter. The 49ers flew out the Seahawks groundskeeper, Sean Vanos, to help with the wet field conditions in Santa Clara. @JayGlazer has the latest ⬇️ pic.twitter.com/OJ2F5iRx77

— FOX Sports: NFL (@NFLonFOX) January 14, 2023
Glazer's NFL reporting is usually accurate and well-connected. Glazer's comments may be true, even though the 49ers haven't confirmed.
This effectively relegates Garoppolo to the role of backup quarterback behind starter Brock Purdy.
Perhaps any remaining doubts about Purdy losing his starting job to Jimmy G were dispelled by his stellar performance in the Wild Card round against the Seattle Seahawks, in which he accounted for four touchdowns (three passing and one rushing).
Jimmy G in his 49ers playoff career (6 starts):

160 YPG
4 total TDs
6 INTs
74 Rating

Brock Purdy in his 1st career playoff game:

332 yards
4 total TDs
0 INTs
131 Rating

— nick wright (@getnickwright) January 15, 2023
That doesn't bode well for the Niners' chances of bringing Garoppolo back in 2023, but it does show how crowded the quarterback room would be if he were healthy enough to play again.
Veteran quarterback Josh Johnson is currently Purdy's backup.
If Garoppolo recovers from his injury, he will replace Johnson as the team's No. 2 quarterback, and Johnson will likely be cut from the active roster.
However, Purdy will continue to serve as the starting quarterback, and he'll have another opportunity to prove why he should stay in that role this coming Sunday when the 49ers host the Cowboys in the NFL divisional round.