If Monday night's loss to the Dallas Cowboys was indeed Tom Brady's last game as a professional football player, it was not the kind of farewell most people expected.
Are the Cowboys the unfortunate recipients of Tom Brady's dirty tricks?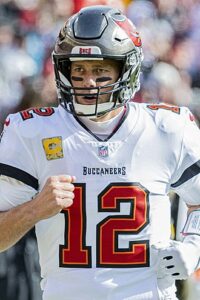 Even though the Buccaneers lost to Dallas by a score of 31-14, Brady showed some promising signs in the second half. The final two points of the game came from passes he made to Cameron Brate and Mike Evans. He almost scored another touchdown pass to Evans, but the receiver dropped the ball after it hit him in the chest.
Brady completed the game having thrown for 351 yards on 35-of-66 passing, scoring two touchdowns and having an interception.
In addition, he made one peculiar takedown attempt on Cowboys safety Malik Hooker, which some people interpreted as a slide tackle. Hooker had just picked up what looked like a fumble by Chris Godwin and was beginning to return the ball when the incident occurred.
Brady appeared to slide toward the back of Hooker's legs and kick his cleats toward Hooker's feet before the fumble was reversed.
One fans wrote: "Dirty Play By Tom Brady,"
Someone else penned: "@NFL @TomBrady @Buccaneers Tom Brady with a dirty play. He should have been kicked out of the game. Trying to trip another player is dirty. #tombrady #tombradyisdirty Hey @TroyAikman you all didn't say a word. Smh."
Someone else tweeted as well: "Tom Brady is a dirty old man."