Mark Andrews (born September 6, 1995) is an American football tight end for the National Football League's Baltimore Ravens (NFL). He attended Oklahoma University and was selected by the Ravens in the third round of the 2018 NFL Draft.
What happened to Mark Andrews?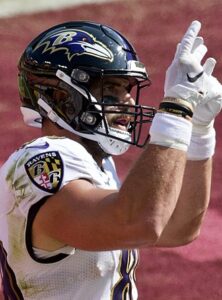 Injury: None
Injury status: Active
UPDATE (JAN. 15): Andrews will be able to play for the Ravens in their game on Sunday.
UPDATE 4: Andrews (shoulder/knee) brought in six of eight targets for 63 yards in the Ravens' 13-3 win over the Panthers on Sunday.
UPDATE 3: Andrews, who is listed as questionable due to knee and shoulder injuries, is expected to play against the Panthers on Sunday.
UPDATE 2: Andrews (shoulder/knee) was listed as a limited participant at practice on Thursday.
UPDATE: Coach John Harbaugh expressed optimism Monday with regard to Andrews' (knee/shoulder) chances of returning to action Sunday against the Panthers.
He appears to be questionable for their Week 11 matchup, with more information to be released closer to the game.
Andrews is nursing several injuries, the majority of which he sustained during a game against the Tampa Bay Buccaneers. He was forced to leave the game after landing awkwardly on his right shoulder due to a knee injury. The shoulder injury has been described as a minor strain.
He did not play in last week's game and it is unknown whether he will play against the Carolina Panthers in Week 11.
According to Ian Rapoport of NFL Network, Andrews strained his shoulder on the play.
Earlier this week, head coach Jim Harbaugh stated that his tight end's injury was not serious.
For much of the past few weeks, Lamar Jackson and the Ravens have been without their top pass-catching target.
All-Star tight end Mark Andrews' season has been hampered by a slew of injuries. He's been his usual productive self on the field, scoring five touchdowns thus far. But, in comparison to previous years, his durability hasn't improved as the year has progressed.
About Mark Andrews
No. 89 –

Baltimore Ravens

Position:

Tight end

Personal information

Born:

September 6, 1995
Scottsdale, Arizona

Height:

6 ft 5 in (1.96 m)

Weight:

247 lb (112 kg)

Career information

High school:

Desert Mountain (Scottsdale)

College:

Oklahoma (2014–2017)

NFL Draft:

2018 / Round: 3 / Pick: 86

Career history

Roster status:

Active

Career highlights and awards

First-team All-Pro (2021)
2× Pro Bowl (2019, 2021)
John Mackey Award (2017)
Unanimous All-American (2017)
Ozzie Newsome Award (2017)
2× First-team All-Big 12 (2016, 2017)
Second-team All-Big 12 (2015)