The NFL Wildcard Weekend schedule concludes with the Baltimore Ravens' road game against the Cincinnati Bengals on Sunday night.
Lamar Jackson OUT, Tee Higgins QUESTIONABLE for Ravens – Bengals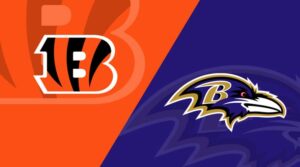 New article: Tua Tagovailoa, Jordan Phillips back Wild Card game? Injuries Bills vs. Dolphins
The Ravens of the NFL's 2022 season have been using the "next man up" strategy for some time. Even without Jackson, the NFL's most valuable quarterback to his team, the Ravens were able to secure a wild card berth this year.
The Ravens' passing and rushing attacks have been based around Jackson. With Jackson out for the season's final five games, the team went 2-3 and saw a drop in offensive production. The Ravens' situation is complicated by the uncertainty surrounding the availability of backup quarterback Tyler Huntley.
After starting 2-2 games in Jackson's absence, Huntley missed the season finale in Cincinnati due to a shoulder injury. Although he's only gotten in a few light practices this week, he was throwing passes on Thursday and is hoping to play on Sunday.
Huntley is the closest analogue to Jackson in terms of running and passing ability, despite being far less talented than Jackson. As we're on the subject of speed, the Ravens should have all of their running backs available for this contest.
JK Dobbins was held out of the last game for precautionary reasons, but he should be good to go on Sunday night. Dobbins, Gus Edwards, and Kenyan Drake are all versatile enough that the Ravens can use them as both runners and receivers out of the backfield.
This year, the Bengals' tight end coverage has been subpar, and the Ravens have one of the league's best in Mark Andrews.
Because of his career-high receiving yardage total against the Bengals last week, rookie tight end Isaiah Likely could also play a significant role in the passing attack this week.
Injury Report
| PLAYER | POSITION | UPDATED | INJURY | INJURY STATUS |
| --- | --- | --- | --- | --- |
| Tylan Wallace | WR | Sat, Jan 14 | Hamstring | IR. Injured Reserve |
| Trystan Colon-Castillo | C | Sat, Jan 14 | Illness | Out for Wild Card at Cincinnati |
| Brandon Stephens | CB | Fri, Jan 13 | Illness | Out for Wild Card at Cincinnati |
| Lamar Jackson | QB | Fri, Jan 13 | Knee – PCL | Out for Wild Card at Cincinnati |
| Josh Ross | LB | Tue, Jan 10 | Foot | IR. Injured Reserve |
| Tyler Huntley | QB | Mon, Jan 9 | Shoulder | Full Practice on Friday. Questionable for Wild Card at Cincinnati |
| Devin Duvernay | WR | Wed, Dec 21 | Foot | IR. Injured Reserve |
| Jalyn Armour-Davis | CB | Sun, Dec 11 | Hip | IR. Injured Reserve |
| Rashod Bateman | WR | Mon, Nov 7 | Foot | IR. Injured Reserve |
| Michael Pierce | NT | Thu, Sep 29 | Biceps | IR. Injured Reserve |
| Steven Means | LB | Fri, Sep 23 | Achilles | IR. Injured Reserve |
| Kyle Fuller | CB | Wed, Sep 21 | Knee – ACL | IR. Injured Reserve |
| Ja'Wuan James | OT | Tue, Sep 13 | Achilles | IR. Injured Reserve |
| Vince Biegel | LB | Thu, Sep 1 | Achilles | IR. Injured Reserve |
MORE: Will Harrison Smith and Joshua Ezeudu be able to make it on Sunday? Injury Update for N.Y Giants – Vikings
Although the Bengals' loss cost them a shot at the AFC's No. 2 seed, that disappointment was overshadowed by their genuine concern for Bills safety Damar Hamlin.
The Bengals defeated the Ravens, 27-16, last week as a way of venting their anger. Now, only one week later, the Bengals will prepare for what will be the rubber match of their season series against the Ravens.
The Bengals know that they must win their division to have any chance of repeating as AFC champions. Joe Burrow, Cincinnati's quarterback, and the rest of the team are in good health heading into the game. Moreover, he was without his best receiver, J'Marr Chase, for a long time.
Burrow has led the Bengals to eight consecutive victories by completing 67% of his passes and scoring 18 times.
On Sunday, he will have two healthy running backs in Joe Mixon and Samaje Perine in addition to his full complement of receivers in Chase, Tee Higgins, and Tyler Boyd.
The Bengals have a much better offensive line than they did last year, but they will miss guard Alex Cappa because of an ankle injury.
Among NFL teams, the Bengals have the seventh-best scoring offense and the league's fifth-best passing attack. They are the league's fifth-best in the red area.
Injury Report
| PLAYER | POSITION | UPDATED | INJURY | INJURY STATUS |
| --- | --- | --- | --- | --- |
| Alex Cappa | OG | Wed, Jan 11 | Ankle | Out for Wild Card vs Baltimore |
| Tycen Anderson | SAF | Wed, Jan 11 | Hamstring | IR. Injured Reserve. Expected Return – Week 19 |
| Drew Sample | TE | Mon, Jan 9 | Knee – MCL | IR. Injured Reserve. Expected Return – Week 19 |
| Clark Harris | LS | Mon, Jan 9 | Biceps | IR. Injured Reserve. Expected Return – Week 19 |
| La'el Collins | OT | Fri, Dec 30 | Knee – ACL + MCL | IR. Injured Reserve |
| Brandon Wilson | DB | Mon, Dec 5 | Knee | Physically Unable to Perform |
| Chidobe Awuzie | CB | Sat, Nov 5 | Knee – ACL | IR. Injured Reserve |
| Ben Brown | C | Wed, Sep 28 | Biceps | IR. Injured Reserve |
| Elijah Holyfield | RB | Tue, Aug 9 | Knee | IR. Injured Reserve |