The Genshin Impact leakers have returned, and this time the leaks go beyond the upcoming version 3.0 update, claiming to confirm character banners in 3.1. We previously got the names of the characters who will appear in future 3.x patches, and now recent Genshin Impact 3.0 beta leak has revealed new information on the characters who will undoubtedly appear in the 3.1 update. Candace, Cyno, and Nilou are among those on the list.
Genshin Impact Leak Claims Cyno Is Coming Sooner Than Expected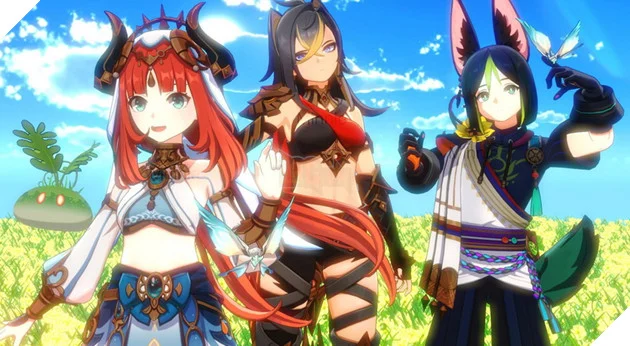 According to Genshin Impact known leaker hxg diluc, Cyno, Candace, and Nilou will be available during the Genshin Impact 3.1 update, which means Lesser Lord Kusanali, the Dendro Archon, won't be available until much later, possibly around mid November. The tweet also mentions the rarity of each character. Cyno and Nilou are both five-star characters, while Candace is a four-star character.
Playable characters in 3.1 should be Cyno, Nilou and Candace
Cyno & Nilou 5 star
Candace 4 star

— 🍁(Waiting for Sumeru) (@hxg_diluc) July 25, 2022
In a previous leak, SaveYourPrimos claimed that Cyno is Electro and uses a polearm, Nilou is Hydro and uses a sword, and Candace is Hydro but uses a polearm.
The rarity and banner debuts make sense because, based on previous banners, HoYoverse rarely releases three completely new five-star characters in a single update. Candace will almost certainly appear on the same banner as Cyno or Nilou — or possibly both — just as the new Anemo four-star, Heizou, is currently available on both Kazuha and Klee's rerun banners in version 2.8.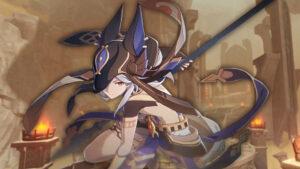 For those unfamiliar with the other characters mentioned, Cyno—who is depicted in the article's featured image—was first introduced in a recent trailer that teased Genshin Impact's future. Candace and Nilou, on the other hand, have not yet been officially revealed.
In addition to the trio mentioned above, there are still a number of new characters that will debut earlier. Tighnari,Collei, and Dori will be available to pull for in brand-new banners once Sumeru is introduced in version 3.0.
Genshin Impact Wiki
Genshin Impact
Developer(s)
miHoYo
Publisher(s)
miHoYo
Producer(s)
Cai Haoyu
Composer(s)
Yu-Peng Chen
Dimeng Yuan
Yijun Jiang
Qian Ding
Xin Zhao
Engine
Unity
Platform(s)

Android
iOS
Microsoft Windows
PlayStation 4
PlayStation 5
Nintendo Switch

Release

Android, iOS, Windows, PS4
September 28, 2020
PlayStation 5
April 28, 2021
Nintendo Switch
TBA

Genre(s)
Action role-playing
Mode(s)
Single-player, multiplayer