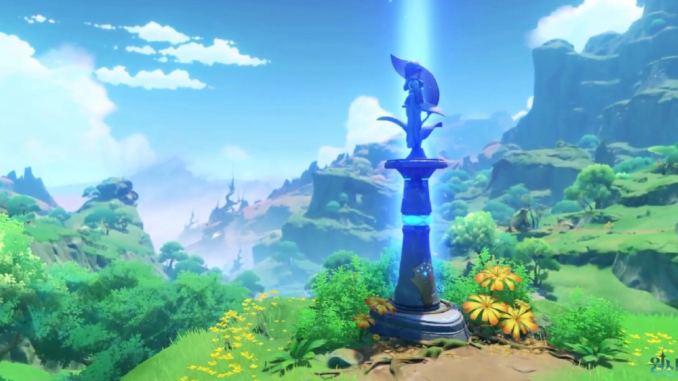 Genshin Impact 3.0 Leaks : Full Sumeru Map, Domain
Genshin Impact Update 3.0 will mark the introduction of the Sumeru region, its associated element, Dendro, new characters, and more lore for Travelers to peruse.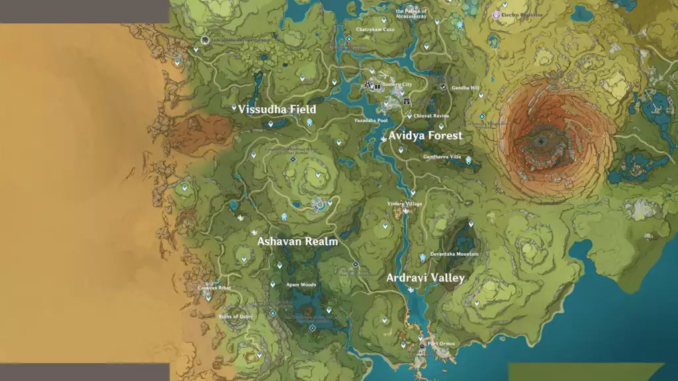 The first of these leaks comes from a prominent dataminer, Ubatcha, who provided a  nearly completed map : including location names, important POIs and Teleport Waypoints , some of the region areas are shaded, indicating locked locations that will be available in later updates.
Sumeru domains preview pictures via Naevis from Genshin_Impact_Leaks
The second Sumeru map leak comes from a recently credible dataminer, Naevis, who posted first-look imagery of some of the domains in the region.
While Sumeru's deserts look majestic at first glance, they are quite vast and dense, and judging from the map, the desert is located on the western side of Sumeru, which has yet to reveal any landmarks.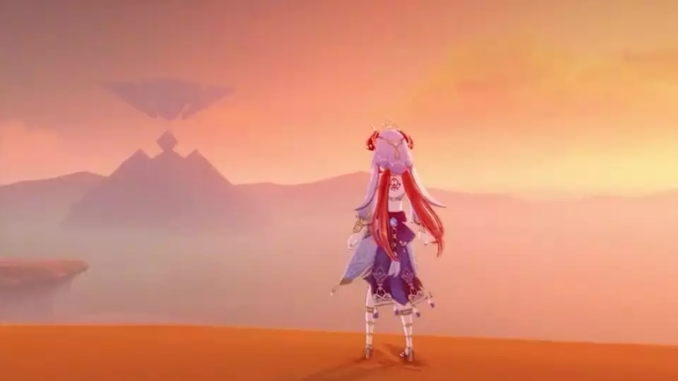 Genshin Impact 3.0 Leaks – New Events And Reruns
Early leaks suggested that there will be an event rerun occurring in the update, for example: notable Gensin Impact dataminer Project Celestia revealed details on the flagship event for the update, which Genshin BLANK further corroborated.
[3.0 BETA] Carving of Innocence

An event in Version 3.0, it features Collei aside from "generic" NPCs.

Collei is the reward for the event. (No, it's not the Trawler fish-bow.)

※ Subject to change.#ProjectCelestia

— Project Celestia (@projectcelestia) July 14, 2022
3.0 Main Event: Carving of Innocence

The staff of Acara Crafts, a toy store in Port Ormos, are preoccupied with the hindered development of new toys.

(See you Collei in Mondstadt during the new Festival!)#GenshinImpact #原神 #Genshin pic.twitter.com/CE76DLFMNf

— BLANK  (@genshinBLANK) July 14, 2022
Another related leak, the Lost Riches event may be gaining a rerun in the update, which can be obtained from the event as a reward, and Travelers may get to use it during the event rerun.
Gadget descriptions + Trawler refinements from Genshin_Impact_Leaks
Lastly, Ubatcha provided early reports of a possible regional Festival event arriving in the update.
[3.0 Beta]

As far as I'm aware, there's no mentions of Moonchase being in 3.0 – If that's incorrect, someone can correct me.

On the other hand, the Sabzeruz Festival should be in 3.0 however it doesn't exactly pan out the same way festivals usually do…

— UBatcha (@Ubatcha1) July 14, 2022
Genshin Impact wiki :
Developer(s)
miHoYo
Publisher(s)
miHoYo
Producer(s)
Hugh Tsai[1]
Composer(s)
Yu-Peng Chen
Engine
Unity
Platform(s)

Android
iOS
Microsoft Windows
PlayStation 4
PlayStation 5

Release

Android, iOS, Windows, PS4
September 28, 2020
PlayStation 5
April 28, 2021
Nintendo Switch
TBA

Genre(s)
Action role-playing
Mode(s)
Single-player, multiplayer