Scaramouche has been one of the most eagerly anticipated Genshin Impact characters since the game's early stages. Now that information about his kit has leaked, the Genshin community has been shaken. In this article, we'll go over all of Genshin Impact's current leaks on Scaramouche – the sixth of the eleven Fatui Harbingers.
Genshin Impact Scaramouche Leaks – Release Date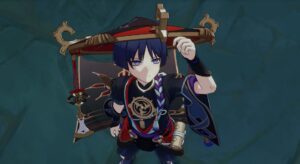 With the Genshin Impact 3.1 update, King Deshret and the Three Wise Men are coming to PC, PlayStation, and mobile devices on September 28, 2022. The next update, Genshin Impact 3.2, is expected to release on November 2, 2022.
Genshin Impact 3.2 leaks point to two new bosses coming to the game:
Scaramouche
Dendro Hypostasis
It has been claimed that Genshin Impact players will receive the Scaramouche banner when he debuts as a weekly boss. Furthermore, a new 4-star character named Faruzan will appear on Genshin Scaramouche's banner.
In addition, Uncle DD alt previously revealed that the Scaramouche release date is set for 3.2. Now, these leaks are consistent with other sources' claims about Scaramouche, who stated the following:
MrX claims Scaramouche is a 5-star Catalyst who will appear in 3.1 or 3.2, as well as a major DPS with a specialization in Transformative Reactions.
Uncle A then claims that a Scaramouche banner will not be available until the 2022 Genshin Impact Anniversary, and that Scaramouche will be playable by the end of Sumeru.
[Reliable – Uncle DD Alt] Screenshot is a reply to a DM asking about Cyno.

"I don't remember [about Cyno], but Scaramouche will be playable in 3.2. You can save this [screenshot]. I will keep running."

TL by @negii_zzzzz, @litt1ef0x, and @Hiddena69415301, SYP Translation Team. pic.twitter.com/IKSlCJjaVB

— SYP 💎🙌 Please tag 3.5 𝕤𝕡𝕠𝕚𝕝𝕖𝕣𝕤. (@SaveYourPrimos) June 10, 2022
Clearly, MrX's 3.2 update and Genshin Impact Anniversary 2022 (on September 28) all line up with Uncle DD's claim of Scaramouche's release date. However, according to the standard six-patch schedule, the Genshin Impact 3.2 update should be available on November 16th (which is a bit later than September due to the version 2.7 delay). If so, Scaramouche will almost certainly appear in the Genshin Impact 3.1 beta.
Genshin Impact Scaramouche Leaks – Element
While Scaramouche was originally thought to be an Electro user, recent leaks have revealed that the upcoming Anemo user described as "Wanderer" in the game's files, according to the reliable leaker @hxg diluc on Twitter, is actually a Wanderer. According to the leaks, Scaramouche loses his ability to use Electro as a result of his delusion.
"Wanderer" delusion is anemo
He cannot use electro anymore I think, due to his redesign

— 🍁(Waiting for Lyney and Lynette) (@hxg_diluc) July 18, 2022
Players appear to be very disappointed with the information we currently know about Scaramouche, but it's important to keep in mind that these are still just leaks and could change at any time. Players won't know for sure until more information is made available whether these changes make sense in light of the game's future story.
Genshin Impact Wiki
Genshin Impact
Developer(s)
miHoYo
Publisher(s)
miHoYo
Producer(s)
Cai Haoyu
Composer(s)
Yu-Peng Chen
Dimeng Yuan
Yijun Jiang
Qian Ding
Xin Zhao
Engine
Unity
Platform(s)

Android
iOS
Microsoft Windows
PlayStation 4
PlayStation 5
Nintendo Switch

Release

Android, iOS, Windows, PS4
September 28, 2020
PlayStation 5
April 28, 2021
Nintendo Switch
TBA

Genre(s)
Action role-playing
Mode(s)
Single-player, multiplayer