Fortnite Chapter 4 Season 2 is quickly approaching, and here's everything we know so far, including the release date, battle pass skins leaks, and more.
Fortnite Chapter 4 Season 2 – Release date
The current Fortnite season is set to end tomorrow, Wednesday, March 8th. According to the famous insider Shiina, Fortnite MEGA Chapter 4 Season 2 will go into maintenance on March 10th at 2 a.m ET. That is 7 a.m. GMT. So, the new season will begin around 3 or 4 a.m. ET. 
CONFIRMED: Fortnite MEGA downtime starts on March 10 at 2am ET!

— Shiina (@ShiinaBR) March 7, 2023
Fortnite Chapter 4 Season 2 – Battle Pass skins leaks
Eren Yeager from Attack On Titan is one of the leaked Fortnite chapter 4 season 2 battle pass skins. ShiinaBR, a well-known leaker, has provided this information. ShiinaBR and Hypex have also received word that Resident Evil 2 Leon and Claire skins will be available in the item shop.
As if all of the above wasn't enough, Shiina has also revealed a slew of other leaked skins. It's worth noting that the images are from surveys, so the costumes may differ in-game.
SEASON 2 BATTLE PASS LINE-UP!! 🔥

These are some, but not all, skins that are currently confirmed for the next Battle Pass, according to a source of @HYPEX & mine!

(Note: These are survey images of the skins, they WILL look different In-Game!) pic.twitter.com/QkocJWqfAS

— Shiina (@ShiinaBR) March 1, 2023
Fortnite Chapter 4 Season 2 – Map changes
Season 2 map changes point to a neo-Tokyo setting. Not only that, but a new version of Lucky Landing is also returning. The theme is Cyberpunk Japan, and there will be futuristic motorcycles as well as katanas as weapons.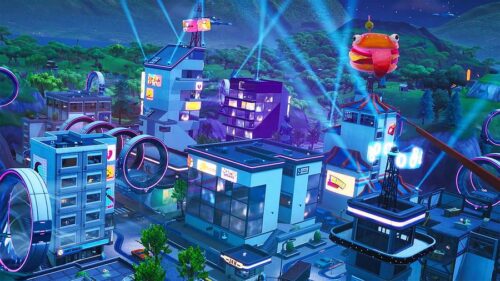 According to leaks, the second season will also feature "glowing tubes to slide on for mobility while holding your weapon."
Of course, as of this writing, none of this is official. The only thing Epic Games has confirmed so far is the end date of Fortnite Chapter 4 Season 1.
FORTNITE SEASON 2 LEAKS 🔥

– Lucky Landing v2 POI & Neo-Tokyo POI
– Katanas / Swords Items
– Futuristic Motorcycles
– New Weapons (Including a Pistol & Shotgun)
– Glowing tubes you slide on as mobility while holding your weapon

From the same source that contacted me & @ShiinaBR pic.twitter.com/feovtmSnYH

— HYPEX (@HYPEX) March 2, 2023
New weapons
New Fortnite chapter 4 season 2 weapons could include katanas, as well as a new pistol and shotgun. According to Hypex, the pump shotgun is making a comeback with a new version. Although not a weapon, it has been reported that the new update will include first-person mode.
Finally, the leaker Wensoing has suggested that some items that were not released as planned in Season 1 will be introduced in Season 2. They're as follows:
Medkit/Shield Potion Revamp: Every second you are using the item, you'll get 10 shield/HP
Exotic Knockback SMG
New Burst SMG
DPS Assault Rifle
New "Core" versions of these weapons:

Snipers
DMR
Rocket Launcher
Revolver
Related: