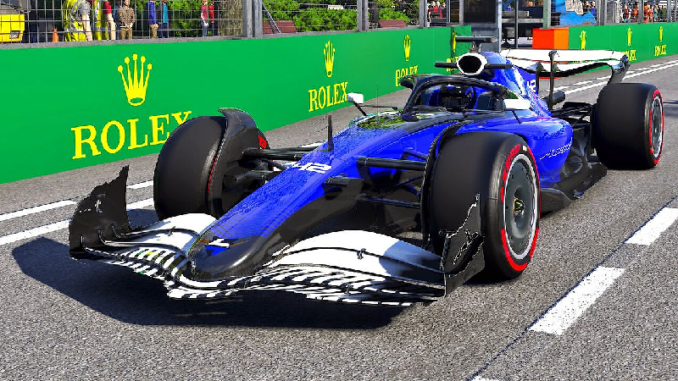 In this article, we will be going through the best setup guide For Dry Conditions: Miami, Japan, France, Austria, Brazil,  Abu Dhabi .
How to Make a Custom Setup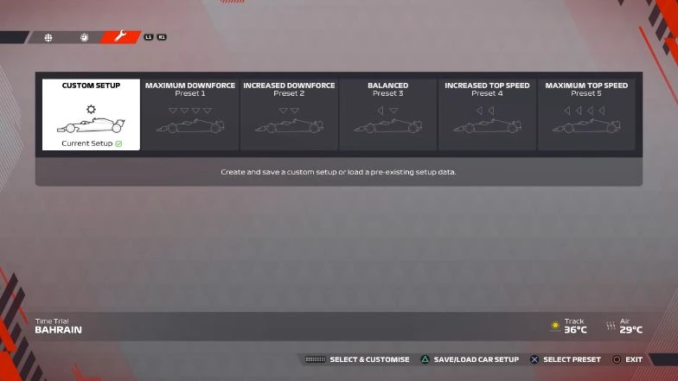 Just remember that each track will have its own custom settings (at least 2 setups for each track: 1 for dry conditions, and 1 for wet conditions) , so let's say you created a custom setting for Spa, these settings won't affect any other tracks in the track list.
Be careful with each individual config setting, as you'll want to think of the configs as a unit rather than an individual. One setting will affect all other settings, so keep that in mind when making adjustments to your settings.
F1 22 Miami Setup Guide For Dry Conditions
Aerodynamics
Front Aero Wing: 14
Rear Aero Wing: 24
Transmission
Differential adjustment on throttle: 78%
Differential adjustment off throttle: 55%
Suspensions Geometry
Front Chamber: -2.8
Rear Chamber: -1.8
Front Toe: 0.05
Rear Toe: 0.23
Suspensions
Front Suspension: 8
Rear Suspension: 1
Front Anti-Roll bar: 8
Rear Anti-Roll Bar: 1
Front Ride Height: 3
Rear Ride Height:5
Brakes
Brake Pressure: 100%
Brake Bias: 50%
Tire Pressure
Front Right Tire Pressure: 23.5
Front Left Tire Pressure: 23.5
Rear Right Tire Pressure: 21.3
Rear Left Tire Pressure: 21.3
F1 22 Japan Setup Guide For Dry Conditions
Aerodynamics
Front Wing Aero: 27
Rear Wing Aero: 38
Transmission
Differential adjustment on Throttle: 60%
Differential adjustment off Throttle: 50%
Suspension Geometry
Front Camber: -2.50 degrees
Rear Camber: -2.00 degrees
Front Toe: 0.05 degrees
Rear Toe: 0.20 degrees
Suspension
Front Suspension: 7
Rear Suspension: 1
Front Anti-Roll Bar: 6
Rear Anti-Roll Bar: 1
Front Ride Height: 3
Rear Ride Height: 4
Brakes
Brake Pressure: 100%
Brake Bias: 50%
Tires
Front Right Tire Pressure: 25 psi
Front Left Tire Pressure: 25 psi
Rear Right Tire Pressure: 23 psi
Rear Left Tire Pressure: 23 psi
F1 22 France Setup Guide For Dry Conditions
Aerodynamics
Front Wing Aero: 15
Rear Wing Aero: 23
Transmission
Differential adjustment on Throttle: 93%
Differential adjustment off Throttle: 55%
Suspension Geometry
Front Camber: -2.50
Rear Camber: -1.50
Front Toe: 0.05
Rear Toe: 0.20
Suspension
Front Suspension: 9
Rear Suspension: 3
Front Anti-Roll Bar: 8
Rear Anti-Roll Bar: 4
Front Ride Height: 3
Rear Ride Height: 4
Brakes
Brake Pressure: 100%
Brake Bias: 50%
Tires
Front Right Tire Pressure: 24.2 psi
Front Left Tire Pressure: 24.2 psi
Rear Right Tire Pressure: 22.2 psi
Rear Left Tire Pressure: 22.2 psi
F1 22 Austria setup Guide For Dry Conditions
Aerodynamics
Front Wing Aero: 18
Rear Wing Aero: 18
Transmission
Differential adjustment on Throttle: 80%
Differential adjustment off Throttle: 50%
Suspension Geometry
Front Camber: -2.50
Rear Camber: -1.00
Front Toe: 0.05
Rear Toe: 0.20
Suspension
Front Suspension: 10
Rear Suspension: 1
Front Anti-Roll Bar: 10
Rear Anti-Roll Bar: 1
Front Ride Height: 3
Rear Ride Height: 4
Brakes
Brake Pressure: 100%
Brake Bias: 55%
Tires
Front Right Tire Pressure: 25.0 psi
Front Left Tire Pressure: 25.0 psi
Rear Right Tire Pressure: 23.0 psi
Rear Left Tire Pressure: 23.0 psi
F1 22 Brazil setup Guide For Dry Conditions
Aerodynamics
Front Wing Aero: 30
Rear Wing Aero: 25
Transmission
Differential adjustment on Throttle: 100%
Differential adjustment off Throttle: 50%
Suspension Geometry
Front Camber: -2.50°
Rear Camber: -1.00°
Front Toe: 0.05°
Rear Toe: 0.20°
Suspension
Front Suspension: 10
Rear Suspension: 1
Front Anti-Roll Bar: 10
Rear Anti-Roll Bar: 1
Front Ride Height: 4
Rear Ride Height: 4
Brakes
Brake Pressure: 100%
Brake Bias: 50%
Tires
Front Right Tire Pressure: 25.0 psi
Front Left Tire Pressure: 25.0 psi
Rear Right Tire Pressure: 23.0 psi
Rear Left Tire Pressure: 23.0psi
F1 22 Abu Dhabi setup Guide For Dry Conditions
Aerodynamics
Front Wing Aero: 32
Rear Wing Aero: 28
Transmission
Differential Adjustment on Throttle: 100%
Differential Adjustment on Throttle: 55%
Suspension Geometry
Front Camber: -2.50°
Rear Camber: -1.00°
Front Toe: 0.05°
Rear Toe: 0.20°
Suspension
Front Suspension: 2
Rear Suspension: 7
Front Anti-Roll Bar: 2
Rear Anti-Roll Bar: 7
Front Ride Height: 2
Rear Ride Height: 3
Brakes
Brake Pressure: 100%
Front Brake Bias: 50%
Tires
Front Right Tyre Pressure: 25.0psi
Front Left Tyre Pressure: 25.0psi
Rear Right Tyre Pressure: 23.0psi
Rear Left Tyre Pressure: 23.0psi
F1 22 game wiki :
Developer(s)
Codemasters
Publisher(s)
EA Sports
Composer(s)

Ian Livingstone
Brian Tyler

Series
F1
Engine
EGO Engine 4.0
Platform(s)

Microsoft Windows
PlayStation 4
PlayStation 5
Xbox One
Xbox Series X/S

Release
Genre(s)
Racing
Mode(s)
Single-player, multiplayer