Higgins hit Hamlin on the chest as the Buffalo Bills safety attempted to tackle him midway through the first quarter. Hamlin was able to get back up at first, but then collapsed and had to be checked by medical personnel.
Tee Higgins expressed his love and support for Damar Hamlin and his family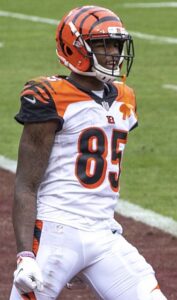 Following the accident, Higgins took to social media to express his condolences to Hamlin:
"My prayers and thoughts go out to the Hamlin Family. I'm praying that you pull through bro. Love,"
Several fans expressed their support and prayers for Tee Higgins in the comments section, comforting him and telling him not to blame himself for the freak accident.
Former NFL player Bart Scott claimed that the Bengals wideout was to blame for the accident, claiming that he made an illegal play by lowering his head and allowing his helmet to collide with the Bills safety's chest.
Aside from the fans, Dallas Cowboys defensive mastermind Micah Parsons has defended Higgins, emphasizing that it was an unfortunate accident because what Higgins did was a normal football play.
Hopefully, Hamlin will recover from this troubling turn and resume his playing career. After all, no one wants to see a player get hurt or have their dreams dashed while playing their favorite sport.