Check out these best Minecraft island seeds for your upcoming world! Who hasn't fantasized about what it might be like to live alone on an island? By using one of these seeds, you can create a lovely island villa in Minecraft to realize that dream!
Best Minecraft 1.18 & 1.19 Island Seeds List
Java 1.19

Royalty Island: 350362654
The Island Adventure: -2135836821937050197

Java 1.18

Long Island Iced Tea: 575448590
United Kingdom: -7096828587805744419

Bedrock 1.19

Ancient Isle: 931970827062634009
Biome War Island: 5890542

Bedrock 1.18

Captain Jack's Hideaway: -1566442267
Crater Mountain Island: 162712994
Best Minecraft Java Island Seeds
Royalty Island
Seed: 350362654
Key Locations
Shipwreck: -136 -248
Outpost: -352 288
Village: -768 -272
Ancient City: 616 616
Ocean Monument: 216 -296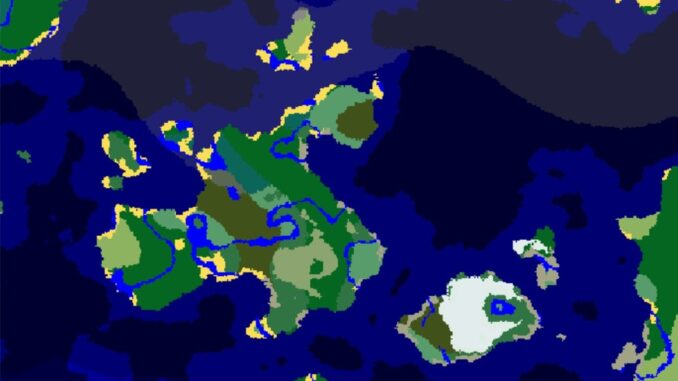 You start out on a sizable island with a variety of biomes. The only threat on this island is a lone Outpost that looks over a lovely Meadow. Claim this mountain fit for a king to kick off The Wilds update right, and don't forget to pass the island's first village on the way up!
The Island Adventure
Seed: -2135836821937050197
Key Locations
Spawn: 1184 -736 (far from world center!)
Village: 1760 -1520
Village: 1664 -336
Ancient City: 1400 -552
Ancient City: 1176 -1144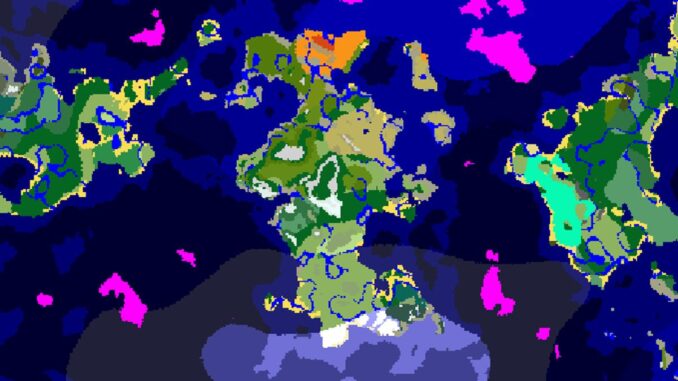 This extraordinary island seed places you on an island that is more than 3000 blocks tall and roughly 1500 blocks wide. There are a great number of useful structures and dozens of different biomes on this island. It is encircled by numerous ocean monuments and holds no less than five villages and ancient cities. In the center of the island, you will encounter a ring of mountains that enclosing an ideal place to set up a base.
Long Island Iced Tea
Seed: 575448590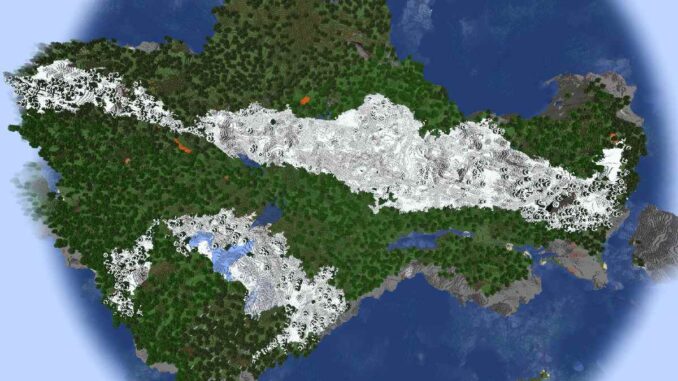 Your starting location is an island with a straight, protracted row of snow-capped mountains. Many different kinds of wood can be found on the island, and there are many breathtaking vistas to behold. A short boat ride will take you to a variety of buildings, including villages, temples, and even a Woodland Mansion!
United Kingdom
Seed: -7096828587805744419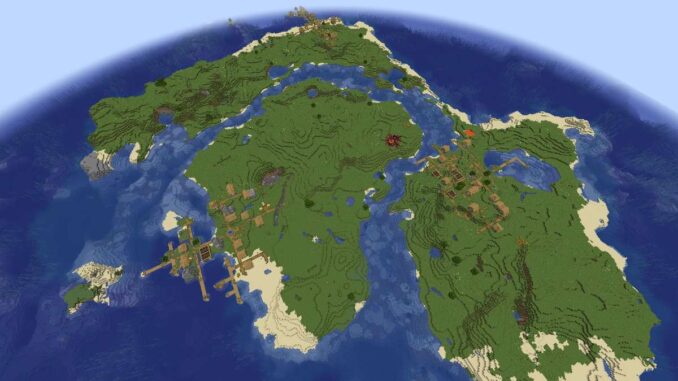 The abundance of nearby resources and biomes make United Kingdom a fantastic survival seed, and it also gives you the chance to roleplay in the real world. With this seed, you begin on a sizable Plains island that has three villages spread out across it. Although, of course, it is not exactly like the UK.
Best Minecraft Bedrock Island Seeds
Ancient Isle
Seed: 931970827062634009
Key Locations
Jungle Temple: 248 -856
Jungle Temple: -408 -856
Jungle Temple: -728 -824
Island Village: 615 -60
Island Ancient City: 872 136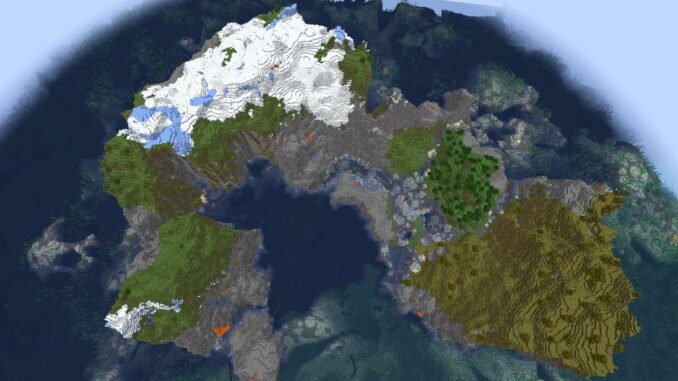 A brief boat ride will take you to a tiny island with hills and mountains when you first start the game. You can explore the jungle at spawn and find three Jungle Temples within 500 blocks if you need resources before going to your island home. This is the best for players who want to settle down on a remote island with a sinister secret.
Biome War Island
Seed: 5890542
Key Locations
Ancient City: -280 184
Outpost: 488 360
Village: 216 -888
Jungle Temple: 1096 312
Ancient City: 472 40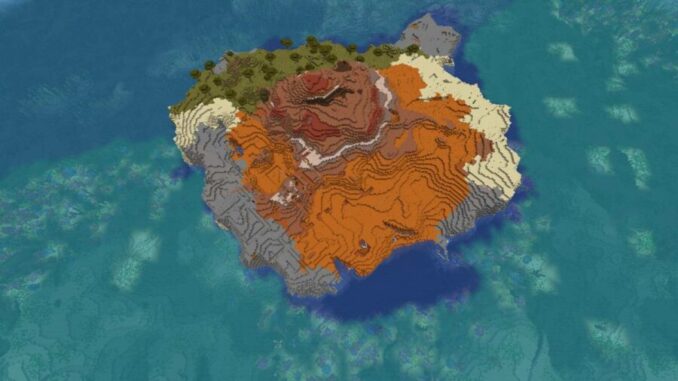 Nearly every biome and structure added in Minecraft 1.19 can be found on the enormous 2,500-block-diameter spawn island. The majority of the biomes from previous updates are also included, along with a number of Outposts and Villages. This island ranks among the top Bedrock seeds for early 1.19 because almost every resource in the game is accessible right at spawn.
Captain Jack's Hideaway
Seed: -1566442267
Key Locations
Your Ship: -360 24
Enemy(?) Ship: -200 -184
Buried Treasure: -248 72
Ruin Cluster: -312 136
Ruin Cluster: -504 56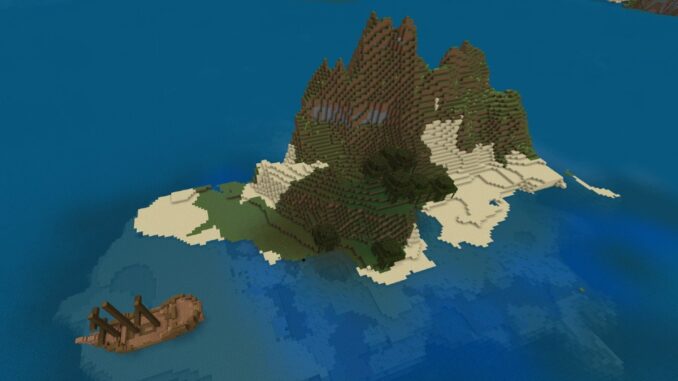 A Captain and Pioneer like yourself occasionally needs a nice, straightforward island to retreat to if you want to unwind. You begin with few resources in this seed: your ship, a few trees, and an abundance of water. The only difference between this island's spawn and those in earlier iterations of Minecraft is that you begin with a massive pirate ship nearby.
Crater Mountain Island
Seed: 162712994
Key Locations
Village: -296 200
Ruined Portal: -600 24
Shipwreck: 248 104
Buried Treasure: -56 -56
Buried Treasure: -56 24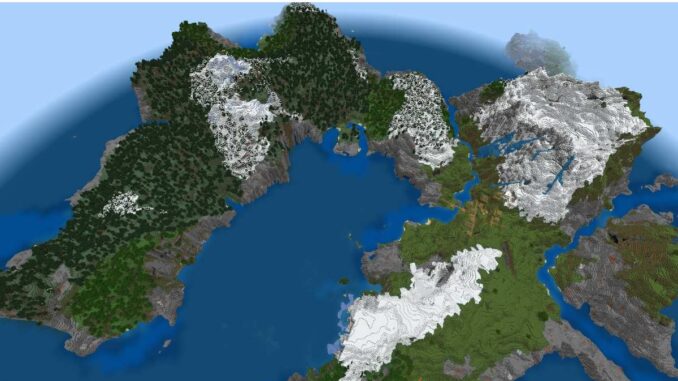 This enormous starting island has a single, strategically placed village in the middle of a sizable mountain crater. There are mountains on the entire island. Keep an eye out for Hidden Treasure! This amazing island spawn has more than 50 of them.