Bryan Reynolds has stated that he would prefer to play for a good team, and the Dodgers have a need in center field. LA has a deep farm system, many consider them the favorites to land Reynolds.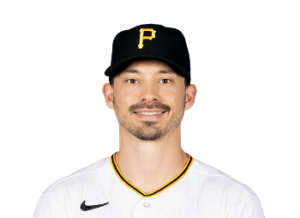 Over at The Athletic, former Reds and Nationals general manager Jim Bowden and Pirates beat writer Rob Biertempfel evaluated reader trade suggestions. One proposal involved the city of Los Angeles:
(Reynolds was traded to the Dodgers in exchange for RHP Bobby Miller, OF Jose Ramos, and LHP Maddux Bruns) – Dan N.
Dan N said: Two excellent pitching prospects and a promising young outfielder. This is a fair asking price. This is a fair-trade proposal — or, at the very least, a good starting point toward a final package — that I believe both sides would consider.
Bobby Miller, a huge righty arm, and Maddux Bruns, a solid southpaw prospect, would be acquired by the Pirates. Jose Ramos is an outstanding outfield prospect.
Biertempfel's perspective: Miller, the 29th overall pick in 2020 out of Louisville, is a top-of-the-rotation pitcher. He pitched at Double A for the majority of last season (20 appearances, 4.45 ERA, 1.20 WHIP, 11.6 K/9) and made four starts at Triple A (3.38 ERA, 1.08 WHIP, 11.8 K/9).
If I were Cherington, I'd look for as many opportunities as possible to bring up the Dodgers' crushing loss to the Padres in the National League Division Series last year.
Would Reynolds be the missing piece that propels Los Angeles to the World Series in 2023? Who knows, but perhaps bringing up those bad memories will motivate the Dodgers' brain trust to act.
Even if it's "fair," I'm not convinced the Dodgers would include Miller in a trade for Reynolds. They haven't said Miller is untouchable, but they haven't traded him to anyone who has asked for him, so now — when he's finally almost ready for the big leagues — would be an interesting time to trade him.
Of course, Biertempfel's interpretation is ridiculous. "Remind Friedman that they lost, and then he'll do something crazy!" Tell me you know nothing about Andrew Friedman without telling me you know nothing about Andrew Friedman, as the kids say. If Ben Cherington tried to do that, Friedman would say, "Yeah, we lost in the NLDS with Freddie Freeman, Mookie Betts, and Trea Turner. Maybe it wasn't about the roster composition."
In a Reynolds trade, I don't see any of the Dodgers' top four prospects (Miller, Diego Cartaya, Miguel Vargas, or Gavin Stone) going to Pittsburgh.
L.A. may outnumber the Pirates in terms of quantity, but I'm not convinced Reynolds is a game-changer enough to justify that level of quality.