It can be difficult to navigate the vast continent in search of Large Lunker Sightings in WoW: Dragonflight, so we've narrowed the search to a few areas.
Take flight in the Dragon Isles on November 28.

Watch the full cinematic in 4k

➡️ https://t.co/GquwkpqEZt pic.twitter.com/o9Oj4PWb8y

— World of Warcraft (@Warcraft) November 15, 2022
Where to Find Large Lunker Sightings in Wow: Dragonflight
World of Warcraft: Dragonflight has brought many exciting changes to the MMORPG, one of which is the way you fish. Fishing used to be a difficult experience due to the fact that you had to use a primary weapon slot for your fishing pole. This would be risky in some areas because you'd only have a fishing pole to use if enemies appeared.
With the new expansion, fishing poles have been regulated to profession gear, eliminating the need for a primary weapon slot. Dedicated fishers only need to include their fishing pole as a professional tool in their Fishing Journal. When you find a good fishing spot, your fishing pole will appear without you having to change your weapon.
To find Large Lunker Sighting, you will first need to visit the Ruby Life Pools on the Dragon Isles' Waking Shores. You'll be able to find a Large Lunker Sighting here. Simply go to the River Mouths Fishing Hole to find a whale tail pillar off the coast. This pillar serves as a warning for Large Lunker Sightings. You can also go to Grimtusk's Fishing Hole and look for the sign. Once you've found the signs, cast five Ominous Conchs near them to summon the Massive Lunker.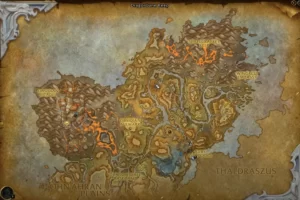 That's how you find Large Lunker Sightings in World of Warcraft: Dragonflight.
About World of Warcraft: Dragonflight
World of Warcraft: Dragonflight
Developer(s)
Blizzard Entertainment
Publisher(s)
Blizzard Entertainment
Director(s)
Ion Hazzikostas
Producer(s)
Holly Longdale
Series
World of Warcraft
Platform(s)
Microsoft Windows, macOS
Release
November 28, 2022[1]
Genre(s)
MMORPG
Mode(s)
Multiplayer