Aside from naming your character, choosing a starter Pokemon in Pokemon Scarlet & Violet is a difficult decision for every Trainer. If you're still undecided between Sprigatito, Quaxly, and Fuecoco, let we help you.
Which Starter Pokemon to Pick in Pokemon Scarlet & Violet ?
Here's what we know so far about Sprigatito, Quaxly, and Fuecoco: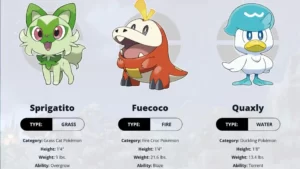 For the time being, we still don't know what the evolutions of the three starters will look like or whether they'll have dual typing or not. It really comes down to whether you prefer Grass, Water, or Fire, or you could do what we did and choose solely based on how cute they are.
Finally, there is no hard and fast rule for choosing a starter; it all comes down to personal preference. As you level up and capture new'mon, you may find yourself not using your First Partner Pokemon at all. In addition, unlike other Pokemon games, we can't recommend a starter Pokemon based on an advantage in the first couple of Gyms because you can tackle them in any order in Scarlet and Violet.
Having said that, the Terastal phenomenon gives Pokemon an attack boost, so even if your starter'mon isn't strong against a specific Gym, they should be fine if you go in with plenty of healing items.
Pokemon Scarlet and Violet Preload Is Available Now
The announcement that Scarlet and Violet's pre-load period has already begun was first reported yesterday and informs players that the day-one 1.0.1 patch for Scarlet and Violet is also now available for download. This extended window of pre-download availability gives players an entire week to ensure their game is ready to go on November 18th.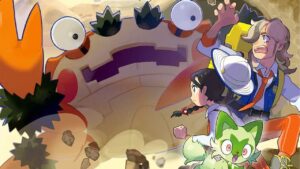 According to the official website, each game will require 7 GB of storage to install, which means that fans who have purchased both versions will require a total of 14 GB to install them both. Furthermore, an additional 1 GB of space will be required for each game's day-one patch, so players should ensure that they have some extra space cleared out on their Nintendo Switches.
Though some of Scarlet and Violet's recently leaked Pokemon evolutions have elicited mixed reactions from the community, fans appear to be in good spirits as they await the release of the Generation 9 titles next week. Following the reveal of a mysterious new Pokemon called Gimmighoul and the release of the games' final pre-release trailer just a few days ago, fans still have a lot of unanswered questions and a massive amount of new content to look forward to with the release of Pokemon Scarlet and Violet.