Are you curious about Building 21 ? Continue reading to find out where Building 21 is and how to get the access key to it in Warzone 2 DMZ.
Where is Building 21 in Warzone 2 DMZ?
Warzone 2.0 Season 1 Reloaded adds new content to the exfiltration-style DMZ mode, including a new area called Building 21. This covert biological laboratory is a mystery in more ways than one, and players have been scratching their heads to figure out where it is.
Unfortunately, Building 21 is not in play yet at the time of writing. Despite the release of Season 1 Reloaded, the new area is set to arrive at a later date, with no plans to announce when it will be available or how to access it.
This is not a troll. Infinity Ward directly said during a call we had with them last week the building won't be live immediately and that they have no plans to announce when it does go live.

— CharlieIntel (@charlieINTEL) December 14, 2022
Building 21 appears to be separate from Al Mazrah, so it's unlikely that players will come across it on the current map. However, because the developers appear eager to maintain the mystery, players should remain vigilant and keep an eye out for any future clues.
How to get Building 21 access key in Warzone 2 DMZ
There is no one way to locate each access key or keycard. Instead, for those of you who don't know, these keys can be found in a variety of ways that are usually consistent regardless of the building.
Here's how to get your hands on a Building 21 access key and keycards:
SAM Site drops
Planes and drop boxes
Boss supply drops
On the map, SAM sites are denoted by a white missile icon. To get the drop, you must first clear out the enemy AI and then activate a console to start a countdown timer. This summons enemy reinforcements, and you must defend the area against them. After securing the site, the missile battery will shoot down any planes that fly over it. The plane will drop supplies for you to loot.
The second method is to wait for airplane supply drops, which begin when the timer reaches 10 minutes. An airplane will fly over the map, dropping three supply drops along the way. On your Tac-Map, these are indicated by an orange dollar icon.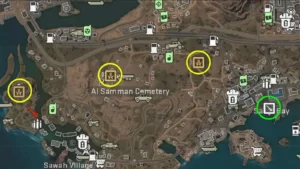 The third and most difficult method is to defeat Commander Helo. The SAM site can assist you with this, but you can also do it yourself. On the map, the Helo is indicated by a white skull icon.
Of course, you can try to steal it from other players if you're feeling lucky. When Building 21 is released, extracting with the key will give you access to it.
Keep this article close, as updates will occur as soon as the building is open and keys are unearthed. Players will more than likely stumble across the key, without a peep from Infinity Ward.
Call of Duty: Warzone 2.0
Call of Duty: Warzone 2.0
Developer(s)
Publisher(s)
Activision
Series
Call of Duty
Engine
IW 9.0
Platform(s)

PlayStation 4
PlayStation 5
Windows
Xbox One
Xbox Series X/S

Release
November 16, 2022
Genre(s)
Battle royale, first-person shooter
Mode(s)
Multiplayer