Is it just us who is obsessed with Squishmallows? Squishmallows appear to have taken over, with the big and squishy guys sweeping supermarkets everywhere, particularly in the United States.
WHAT ARE THE POKEMON SQUISHMALLOWS?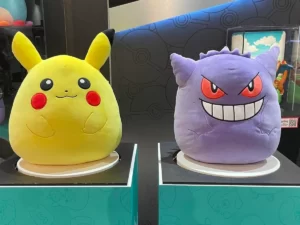 With ongoing collaborations with Pixar and Star Wars, they could follow in the footsteps of Funko Pop!
But one collaboration stands out above the rest, as some customers in the United States have begun to find Pokemon-themed Squishmallows, with Pikachu and Gengar appearing in the tall grass (Walmart) in the last week.
Unfortunately, they have since been recalled. It caused a lot of confusion, but thankfully, Walmart cleaned it up quickly.
CONFUSION OVER POKEMON SQUISHMALLOWS AT WALMART
Despite the fact that Pikachu and Gengar have been quietly removed from Walmart store shelves, we now have some insight into why they were removed in the first place.
The silver lining is that the pulling isn't due to faulty products; rather, it's to keep stores from selling them because they're not supposed to be available until February.
Says a Jazwares representative in response to Polygon: "Squishmallows x Pokémon are not being recalled, they simply set a bit too early. Fans can expect to see them roll out soon for purchase. This happens sometimes — stock goes out on the floor a bit early, and systems have not yet caught up."
WHAT EXACTLY ARE POKEMON SQUISHMALLOWS?
You may have noticed some differences between Walmart Squishmallows and Pokemon Center Squishmallows, with some accusing the latter of being cheap knock-offs.
Instead, the first batch was a limited edition run, while the second batch will come in various sizes and will not have the Pokemon Center badge.
The new Squishmallows will come in sizes ranging from 3.5 inches to 24 inches.
So, we may have to wait a little longer before we can pounce on the Squishmallows, but there are more Pokemon planned to join the crossover line.
It won't just be Pikachu and Gengar joining the roster, as Jazwares and The Pokemon Company have confirmed that there are more products in the pipeline, with even more Pokemon joining the big squishy army.
Even if we have to wait until next month for Pikachu and Gengar to arrive, we know it's only the beginning.