Although Pokemon Scarlet and Violet had issues, fans believe they have discovered hints of a new region for Gen 10 within the games.
Pokemon Scarlet and Violet Easter Eggs hint at Gen 10 region
Similarly to how Galar in Gen 8 was a homepage to the United Kingdom and Paldea in Gen 9 was a homepage to Spain, Game Freak appears to be putting a pin in the map and heading somewhere new the next time.
On Reddit, a user named Brenduke discovered a mysterious painting in art class that resembles Australia's Uluru. It's better known as Ayers Rock and is one of Australia's most recognizable landmarks.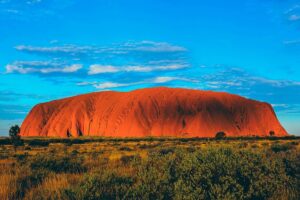 If you're still not convinced, consider how Pokemon X and Y's "Strange Souvenir" seemed to allude to Sun & Moon's Aloha, and how wallpaper depicting oranges in Sword & Shield's Hotel Ionia fit the brief of Paldea's Spanish-inspired vistas.
Will the next Pokemon game be set in Australia?
Even if this is far from accurate, gamers on Reddit praised the idea in the comments. "Dingo Pokémon that's a ghost and it's called Dinghost," one supporter joked. Another person added, "Need a new kangaroo? Here's Aussie Khanga." A third stated, "I want it so badly (definitely no bias being from there). We need a Cockatiel Pokemon, a Tasmanian Devil Pokemon, a Kangaroo Pokemon that actually looks like a Kangaroo, and a koala pokemon that doesn't suck."
You can bet there will be variants of some classic 'Mon, just like we had Paldean Tauros and Wooper, but other than that, your guess is as good as ours as to what other creatures will be created.
It remains to be seen whether there is more to the story, but with the disappointment of Scarlet & Violet still fresh in our minds, we wouldn't expect to see a new Pokemon game anytime soon. Having said that, we anticipate that when Gen 10 is released, fans will start to swarm back like a boomerang.