Vince Gilligan is working on a new show, and the Better Call Saul follow-up is about to hit the airwaves. Gilligan is pursuing an entirely new idea for his next drama project. No one would comment, but there is a lot of excitement in the market for the pitch, which is expected to be released in the next few weeks, with at least 8-9 networks and platforms lined up to hear it.
Vince Gilligan's Better Call Saul Follow-up Sounds All Good, Man
According to Deadline, Gilligan is about to begin pitching his new show to Hollywood. He's keeping his next project's details close to his chest until he can pitch it to the seven or eight networks and platforms salivating at the prospect of more Gilligan.
Deadline also reports that the show will take us back to Gilligan's X-Files roots. But don't expect a sci-fi drama — as a writer-producer on The X-Files, Gilligan was known for emphasizing the human condition in his episodes, which he is said to be doing again in his new series, exploring similar themes of bending reality while holding a mirror to humanity.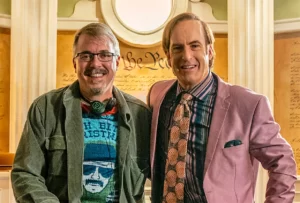 Described as a blended, grounded genre drama, the new series also is being compared to The Twilight Zone. It is said to be set in our world but with a twist, focusing on people and exploring the human condition in an unexpected and surprising way.
Nonetheless, Vince Gilligan is leaving the Breaking Bad universe behind to escape the harsh New Mexico sun. Unfortunately, this means that we will never see another season of Breaking Badger. Gilligan said earlier today at TCA that after 127 hours of television, he can't keep putting all of his "money on red 21." Simply put, he doesn't want to be the last man standing at the party wearing "a lampshade on [his] head."
I don't have any plans right now to do anything more in this universe. I know I probably gave the same answer at the end of Breaking Bad. I gotta prove to myself that I got something else in me. I'm not a one trick pony, that's what I'm hoping."
He also said that he "can't wait" for people to see the Saul finale, by which he obviously means us, because we can't either. Better Call Saul's season finale airs on AMC next Monday.
About Vince Gilligan
Vince Gilligan

Born

George Vincent Gilligan Jr.

February 10, 1967 (age 55)

Richmond, Virginia, U.S.

Alma mater
Tisch School of the Arts
Occupation
Years active
1992–present

Spouse(s)

Holly Rice
Awards
Full list