Nothing good can endure when it comes to Netflix. First Kill is by no means the streamer's first kill, and it won't be the last either. Look on the works of the algorithm, ye Mighty, and despair!
First Kill – Vampire Drama Canceled By Netflix After One Season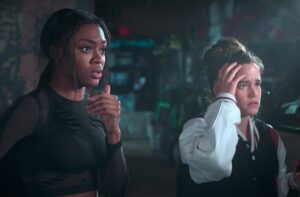 The cancellation of the sapphic vampire romance is not entirely unexpected. Written by bestselling author V.E. Schwab and Felicia Henderson, the story centers on the transformation of a young vampire (Sarah Catherine Hook) and vampire hunter (Felicia Henderson) from enemies to forbidden lovers. In comparison to the streamer's other comparable teen fare like Outer Banks or Heartstopper (to say nothing of a juggernaut like Stranger Things), the series debuted to rather "meh" reviews and didn't have the same cultural impact. Nevertheless, it developed a devoted following of viewers who admired the series' particular style of on-screen representation.
As is always the case with Netflix, the cancellation is merely a game of numbers, though it is sometimes unclear how the company interprets its own numbers. First Kill, according to Deadline, entered the Top 10 for series in its first week, reaching No. 3 with 48.8 million hours watched (at the time, trailing only Peaky Blinders and Stranger Things in terms of total viewing time). The show "easily cleared" 100 million hours viewed in its first month. And yet the show "did not meet thresholds for viewing and completion of episodes." In its first month, the program "easily cleared" 100 million hours of viewing. Nevertheless, the show "did not meet thresholds for viewing and completion of episodes."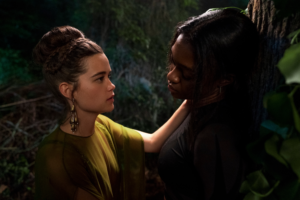 Even for shows with vocal fan bases, Netflix can be quite ruthless—just look at the cancellations of Julie And The Phantoms and The Society. As some disgruntled First Kill viewers have noted, it frequently occurs to the company's shows with queer teen girl leads (Everything Sucks, I Am Not Okay With This, Trinkets).
The streamer's strategy of canceling shows after one or two seasons is well-known, and it appears unlikely to change now that financial difficulties are looming. First Kill is just the most recent victim.
Neftlix First Kill Wiki
First Kill
Genre
Created by
Victoria Schwab
Based on
"First Kill"
by V. E. Schwab
Starring

Sarah Catherine Hook
Imani Lewis
Elizabeth Mitchell
Aubin Wise
Gracie Dzienny
Dominic Goodman
Phillip Mullings, Jr.
Jason R. Moore

Music by
Kurt Farquhar
Country of origin
United States
Original language
English
No. of seasons
1
No. of episodes
8
Production
Executive producers

Victoria Schwab
Emma Roberts
Karah Preiss
Jet Wilkinson
Felicia D. Henderson

Producers

James Bigwood
Matt Matruski

Cinematography

Amy Vincent
Keith L. Smith
Cliff Charles

Editors

Bjørn T. Myrholt
Karen Castañeda
Angela Latimer
Marc Pollon

Running time
42–59 minutes
Production companies

WaterWalk Entertainment, Inc.
Belletrist Productions

Release
Original network
Netflix
Original release
June 10, 2022