One of many elite monsters you'll run into in your Tower of Fantasy adventures is Inquisitor Mnemosyne. He is particularly significant in November 2022 as one of many monsters you must gather information from! Despite this, it's hard to pinpoint his exact location. For more information, read on to find out where to locate Inquisitor Mnemosyne in Tower of Fantasy.
Tower of Fantasy Guide – Mnemosyne Location
To find Mnemosyne, you need to travel through Aesperia to the Warren region. More specifically, you'll want to transmit to either the Warren Snow Peak Spacerift (949.7, -628.2) or the Saag Passage Spacerift (732.8, -641.3). Whichever route you take, make your way north to the Aida Secret Base at (913.8, -797.4).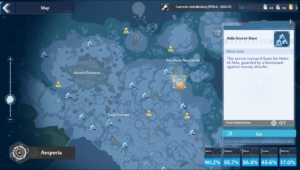 When you arrive at this location, you're met with hostile Heirs of Aida enemies guarding a supply pod. Inquisitor Mnemosyne and a robotic treasure guard join these foes. Defeating Mnemosyne here will earn you an achievement, while defeating the guard will grant you access to the supply pod.
Gathering Intel from Inquisitor Mnemosyne
#TowerofFantasy ⚔ Ultimate Weapon

▶ Event period: 00:00, Nov.1 – 23:59 Nov.13 (UTC-4)

▽ Earn Encrypted Disks and Aida Keepsakes in the Ultimate Weapon Event!💪

Exchange them for rewards such as the Omnium Shield Relic, Red Nucleus, etc!🤑

See more details in-game! #ToF pic.twitter.com/A4uKB37q4U

— Tower of Fantasy (@ToF_EN_Official) October 29, 2022
The Tower of Fantasy Ultimate Weapon event will take place from November 1 to November 13. For each monster you find, you'll receive Encrypted Disks to use in the event store
To earn points for this event, locate Mnemosyne at the previously described location and photograph him using the camera icon in the top-left corner of your screen. This does not require you to engage in combat, but you may get caught in the process! Just make sure to enable "The Monster" in your photo settings!
About Tower of Fantasy
Tower of Fantasy
Developer(s)
Hotta Studio
Publisher(s)
Engine
Unreal Engine 4
Platform(s)
Windows, iOS, Android
Release

CHN: 16 December 2021
WW: 11 August 2022

Genre(s)
Action role-playing game
Mode(s)
Single-player, multiplayer