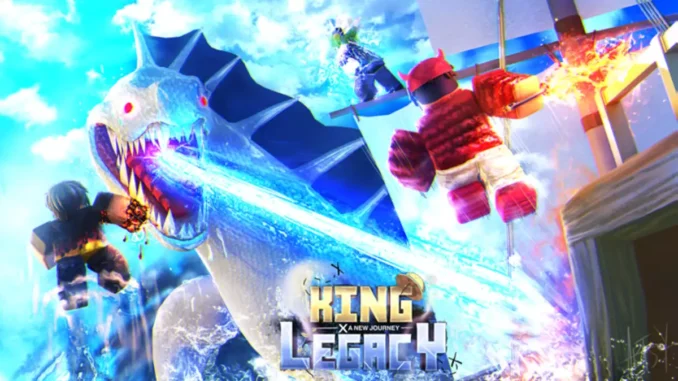 King Legacy Update 4 Release Date, time
The release date and time countdown for King Legacy Update 4 is November 2nd, 2022 at 3am PT/6am ET.
What are Roblox promo codes?
These are codes that you can use to get free cosmetic items for your avatar! You can equip them to your character in the Roblox Avatar area. You will keep these items permanently, so don't worry about them disappearing. However, make sure to redeem the codes as soon as possible as they will expire after a certain time.
Unfortunately, we don't know when new codes are coming to Roblox, so these are just as amazing to you as they are to me! If there's new code, we'll usually include it at the top of the page, so it's the first thing you see.
Free Roblox King Legacy Codes (Working codes):
UPDATE4.0.2—Redeem for 5 Gems (New)
HYDRAGLYPHICS—Redeem for 50 Gems
900KLIKES—Redeem for a Stat Reset
UPDATE4—Redeem for 5 Gems
Peodiz—Redeem for 100k Cash
DinoxLive—Redeem for 100k Cash
How to Redeem Codes in King Legacy  ?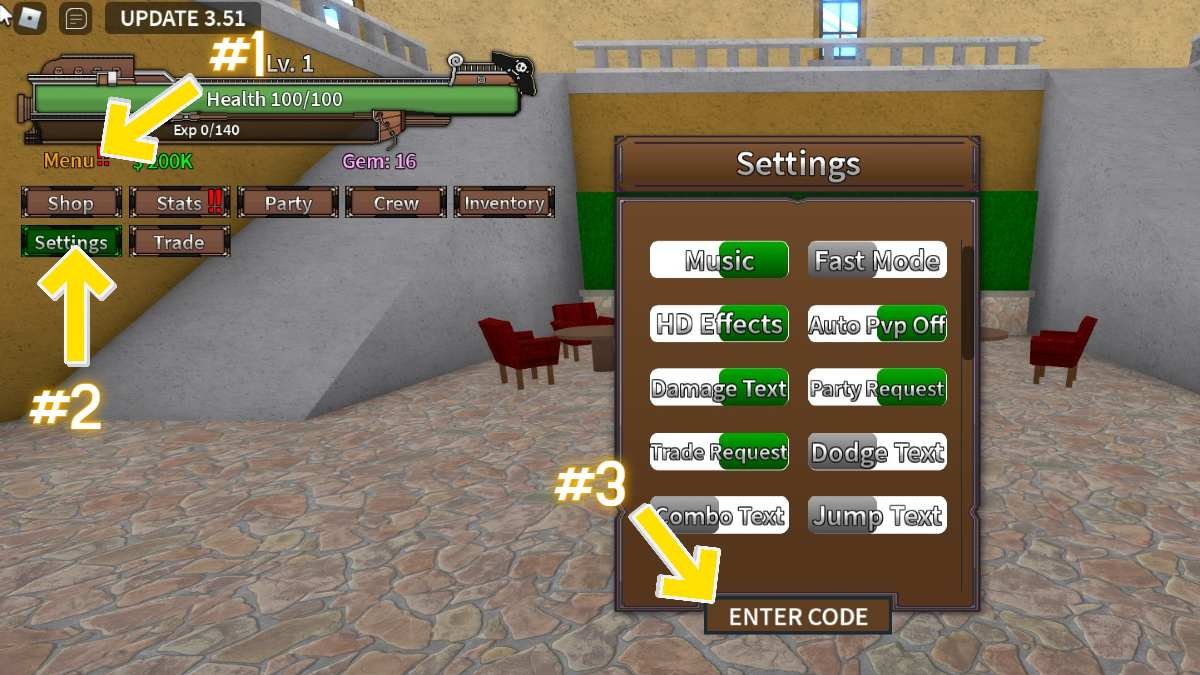 Follow 3 steps below to redeem code :
Open Roblox on your device and launch King Legacy.
Click on the Settings button next to the Health bar in the game.
Copy a code from the list working codes above and paste it into the "ENTER CODE" column => Click enter to get your free rewards.
Roblox King Legacy Update 4: log  & patch notes
Added New 2 Island (2ND SEA)
Added New 2 Awake Fruit
Added New 8 Swords
Added New 11 Accessories
Added Dark Leg V2
Added Observation V2
Added Armament V2 (You can change the haki shade colours in game)
Unfortunately Armament V2 Weapon haki on mobile it's bugged due to roblox glitch so we can't do anything about it as of now.
Added New Hydra Sea King Bosses
Hydra spawns in sea beast island has a chance of being hydra instead of sea beast (Mythical Sea Beast)
Added Tier 4 Chest (Hydra only)
Hydra chests chance

Tier 1 Chest 1%
Tier 2 Chest 74%
Tier 3 Chest 24%
Tier 4 Chest 1%
Hydra Phase I 2.5M HP
Hydra Phase II 5M HP
Hydra Phase Body 2M HP

Hydra will spawn 2 hydra's minions 10B HP (Which is impossible to kill)
Revamp & Change
Revamped String fruit
Phoenix (Full Form) / You won't be able to move while using X and E move on phoenix full form anymore.
Sky Jump will automatically recharge to full when you touched the ground
Sky Jumps will scale on level [+1 every 500 levels] instead of melee stats (Cap: 8)
Every fruits flight move can only be used for 10 seconds
You can't equip/unequip awake while holding skill
Added Acroscyth weapon Animation
Snow / X not do damage anymore
Fixed Mobile Direction while charging
some balances was made to everything in the game swords, fighting styles, fruits [can't go in depth here it would be too long.]
If you're too far away from your targets/enemy your damage will be avoided [you won't do any damage to your target]
Your moves can now be cancelled if you got attack while using it
Changed legacy islands spawn so it spawn closer to the main islands
Revamped dash animation and also made the dash faster
Removed ghost ship from legacy pose
Normal enemies and bosses will now target you if you go nearby them [hostile]
List of revamped bosses / also gave them some skills
* 1st Sea*
Ball Man [Lv. 850]
Bomb Man [Lv. 625]
Candle Man [Lv. 525]
Combat Fishman [Lv. 2050]
Dark Leg [Lv. 300]
Dory [Lv. 350]
King Snow [Lv. 450]
Leader [Lv. 1100]
Leo [Lv. 1400]
Wolf [Lv. 1250]
Giraffe [Lv. 1325]
Little Dear [Lv. 500]
Pasta [Lv. 1150]
Seasoned Fishman [Lv. 2200]
Shark Man [Lv. 230]
Smoky [Lv. 20]
Tashi [Lv. 30]
The Barbaric
* 2nd Sea*
Bean Lv. 2800
Bear Man [Lv. 2750]
Duke Lv. 2550
Elite Skeleton [Lv. 3100]
Gazelle Man [Lv. 2350]
Joey Lv. 3000
Meji Lv. 2850
Pachy Woman [Lv. 2900]
Violet Samurai [Lv. 2500]
New Inventory Appearance (Swords, Accessories, Fruits)
New Fruit Shop Appearance
New Random Fruit Appearance
New map
New server browser (BETA TEST)
New server region (check server ping)
New red bar inside health display
New raid boss health display
New Settings Enable/Disable Ally Effects
What is King Legacy Codes ?
Experience the world of One Piece in a whole new way in King Legacy, as a Roblox character! In King Legacy, players must challenge themselves to explore the open seas and use their experiences to increase their skills and stats as they grow in notoriety as a fearsome pirate or stalwart marine.