Kyrie Irving (born March 23, 1992) is an American professional basketball player for the National Basketball Association's Brooklyn Nets (NBA).
What injuries has Kyrie Irving sustained during his NBA career?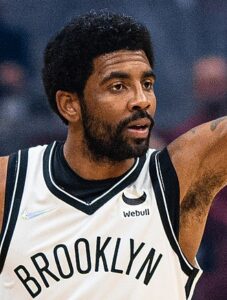 Injury:
Injury status: Active
Update (Jan. 30):
Irving played all 38 minutes of Thursday's 130-122 loss to the Pistons and contributed 40 points (14-27 FG, 6-12 3Pt, 6-7 FT), five rebounds, six assists, two blocks, and two steals.
On Thursday, Irving did everything he could to help the Nets win, scoring 18 points on 6-of-10 shooting in the first half and another 22 points on 8-of-17 shooting in the second and third quarters.
He scored 40 points to lead all scorers, but it wasn't enough as Detroit pulled off the road upset. In addition to his six dimes, five boards, two blocks, and two steals, Irving proved once again why he is such a valuable fantasy point guard. When the Nets take on the Knicks this Saturday, he'll try to make it six straight games scoring at least 30 points.
Update (Jan. 26):
Since Kyrie Irving returned to the lineup last Tuesday after missing the previous game with a calf injury, he has been playing at an MVP level.
He suited up in each of Brooklyn's three games to close out the Nets' West Coast road trip, averaging 38.7 points, 8.3 rebounds, 7.3 assists, 5.0 three-pointers, 2.7 steals and 0.7 blocks in 39.3 minutes per contest while shooting a sizzling 52.6 percent from the field and 90.5 percent from the charity stripe. After struggling with his shot earlier in the campaign, Irving is now sitting on a 48.5 percent mark from the field for the season, right in line with his career rate.
Update (Jan. 19):
According to Christian Arnold of the AP, Irving (calf) is listed as probable for Thursday's game against the Suns.
Update (Jan. 4):
Kyrie Irving is ready for the game against Bulls on Wednesday.
Update (Dec. 26):
Irving (calf) will not be limited in minutes when he returns to the court against the Cavaliers on Monday.
Update (Dec. 23):
Kyrie Irving (calf) is not listed as injured for Friday's game against the Bucks, according to Kristian Winfield of the New York Daily News.
Update (Dec. 16):
Despite the turmoil he's been involved in off the court, Kyrie Irving has regained his focus on the court.
Update (Dec. 12):
Kyrie Irving is not listed as injured for Monday's game.
Irving missed Saturday's game against the Pacers due to left adductor tightness, but he will play again on Monday.
Kevin Durant, Joe Harris, and Ben Simmons are also out, so Brooklyn should have the majority of its regular players available against the Wizards.
About Kyrie Irving
No. 11 – Brooklyn Nets

Position

Point guard

League

NBA

Personal information

Born

March 23, 1992
Melbourne, Victoria, Australia

Nationality

American

Listed height

6 ft 2 in (1.88 m)

Listed weight

195 lb (88 kg)

Career information

High school

Montclair Kimberley Academy
(Montclair, New Jersey)
St. Patrick
(Elizabeth, New Jersey)

College

Duke (2010–2011)

NBA draft

2011 / Round: 1 / Pick: 1st overall
Selected by the Cleveland Cavaliers

Playing career

2011–present

Career history

2011–2017

Cleveland Cavaliers

2017–2019

Boston Celtics

2019–present

Brooklyn Nets