The search for Stray Zurk weapon begins in Doc's lab, which is hidden behind a secret door in Seamus' apartment in Chapter 6. To open it and take a broken tracker from a box on top of a square shelf, you'll need a safe code. After repairing it as part of the main quest, the next step is to locate Doc and the Zurk weapon.
Stray Doc's Hideout Zurk Weapon Location
You can find Doc's hideout in Stray's seventh chapter, Dead End. The path to the Zurk weapon location entails avoiding the pesky creatures as well as some platforming. Once inside Doc's hideout, proceed downstairs and introduce yourself. Turn right from the table where Doc was resting, then turn back and walk past the open wooden doors. Step onto the desk to your right and interact with the unusual yellow tool.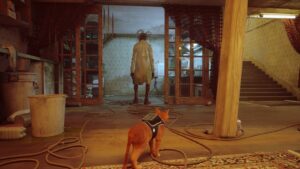 Doc then explains that it is the Defluxor and can "explode Zurks like confetti". If you guessed this was the location of the Zurk weapon in Doc`s Lab, you were correct. But there's another extra step before adding it to the tools you can use in Stray. The generator outside needs to be powered up, so you must follow the yellow cable to it, replace the fuse, and then return while Doc uses the weapon's light to protect you from the onslaught of Zurks.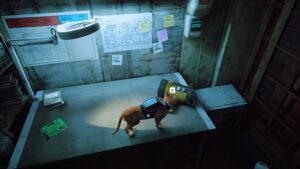 Once you return to the house, he will attach the Defluxor to your backpack, allowing you to murder Zurks on your own. Just keep in mind that you can only use it in short bursts before it overloads, leaving you with no choice but to flee.
That's all you need to know about finding the Stray Zurk weapon in Doc's Hideout.
Stray Wiki
Stray
Developer(s)
BlueTwelve Studio
Publisher(s)
Annapurna Interactive
Director(s)

Colas Koola
Vivien Mermet-Guyenet

Producer(s)
Swann Martin-Raget
Designer(s)

Mathieu Audrain
Alexandre Brodu
Hugo Dunas-Wald

Programmer(s)

Rémi Bismuth
Sores Hatipoglu
Antonin Ferret

Writer(s)
Steven Lerner
Composer(s)
Yann Van Der Cruyssen
Engine
Unreal Engine 4
Platform(s)

PlayStation 4
PlayStation 5
Windows

Release
19 July 2022
Genre(s)
Adventure
Mode(s)
Single-player