Rudy Gobert (born June 26, 1992) is a French professional basketball player for the Minnesota Timberwolves of the National Basketball Association (NBA). He is considered one of the NBA's best rim protectors.
What kind of injuries has Rudy Gobert faced during his time in the NBA?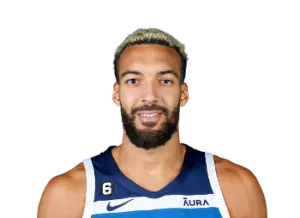 Injury: Ankle
Injury Status: Game Time Decision
UPDATE (Mar. 20):
Rudy Gobert might not be able to play on Monday in New York because of an ankle injury.
Gobert has been listed as "questionable" for the last four Timberwolves games, but he has been playing through an ankle injury, so he feels more like "probable" than "questionable."
UPDATE (Mar. 18):
On Saturday, Rudy Gobert's participation in the game against the Raptors is now in question.
UPDATE (Mar. 17):
Due to a sprained left ankle, Gobert's status for Friday's game against the Bulls is in doubt.
This Friday could be Gobert's first game missed since February 26. It's possible that Naz Reid (calf) and Nathan Knight's playing time increases if Gobert is out.
UPDATE (Mar. 15):
Rudy Gobert's status for Wednesday's game against the Celtics is in doubt due to a sprained left ankle.
UPDATE (Mar. 13):
The status of Gobert (left ankle sprain) for Monday's game against the Hawks remains in doubt.
As the story goes, Gobert rolled his ankle in the fourth quarter on Friday and was able to play through the pain, but it appears to have swollen up since then. He plans to give Monday's shootaround for his ankle a try, but if he can't play, Naz Reid would be a good option for a spot start and as a streamer.
UPDATE (Mar. 10):
While playing 25 minutes in Tuesday's 117-94 loss to Philadelphia, Rudy Gobert ended with 6 points (2-6 FG, 2-4 FT), 9 rebounds, 2 assists, 1 block, and 2 steals.
In the loss, Gobert was dominated by Joel Embiid and was often taken out of the game. Gobert's season-long struggles were on full display in this game. His defensive versatility is constrained by his slowness and inability to change direction.
UPDATE (Mar. 07):
During Saturday's 138-134 win over Sacramento, Gobert had 13 points (5-9 FG, 3-4 FT), 14 rebounds, and 2 blocks in 31 minutes of play.
Gobert has had a double-double in five of the last six games he has played. The veteran has also been better at blocking shots recently, with 12 blocks in the last six games. Gobert has had some trouble staying healthy this season, but he is still one of the best defenders in the league and will continue to be a great rebounder.
UPDATE (Mar. 04):
The Minnesota Timberwolves defeated the short-handed Los Angeles Lakers 110-102 on Friday night, led by Rudy Gobert's 22 points and 14 rebounds and Anthony Edwards' 19 points.
Rudy Gobert had a stellar all-around game, scoring 12 points (6 from the line, 6 from the field) for the Jazz. His work on the boards was also instrumental in his double-digit point total, as he pulled down 14 boards (and five on the offensive end). On four of his last five games, Gobert has recorded a double-double.