Though she performed a wide variety of songs at the Super Bowl, some Rihanna haters have speculated that the reason she began with "B**** Better Have My Money" was because of the song's significance to the singer
Rihanna may have poked fun at the Super Bowl's organizers during her halftime show with the song "B**** Better Have My Money"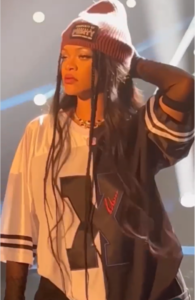 On Sunday, the 'Diamonds' singer made a triumphant return to the stage in Arizona, dazzling audiences with her incredible voice and baring her baby bump for all to see.
She opened things up in a red dress and an expecting belly on a floating platform, with the camera focused on her face.
Rihanna, clearly eager to get started, jumped right into the popular song "B**** Better Have My Money."
You don't need to be a Rihanna fan to recognize this song, thanks to its frequent airings on the radio and inclusion on playlists.
The song was released in 2015 and was nominated for a number of awards, so it's not an entirely random opener. Even so, curious fans haven't been able to stop digging deeper.
Surprisingly, despite the magnitude of her Super Bowl performance, Rihanna did not receive payment.
This is standard procedure; in fact, artists who perform at the Super Bowl halftime show are never paid for their appearances, only reimbursed for their expenses and travel.
Even though sponsors like Apple Music usually pick up the tab for such events, the NFL does chip in this time around.
Even so, it's not always enough; both Dr. Dre and The Weeknd reportedly paid $7 million out of their own pockets to secure their shows in 2022 and 2021.
Though, with over a hundred million viewers, the musical extravaganza was definitely worth it.
Haters of the "Umbrella" singer have theorized that the song was selected as an indirect message to the event's organizers, given the unusual nature of the system for some of the world's biggest stars.
After Rihanna went on stage, one person tweeted about it: "Starting a show you're not getting paid for with B*tch Better Have My Money, Pay Me What You Owe Me is some queen behavior,"
While someone else said: "Really incredible that Rihanna opened with "B*tch better have my money" in a performance for which she was not getting paid."
One person wrote: "Rihanna opening to "b*tch better have my money" when performers for the Super Bowl are not paid is 10/10."