On "The View," Sunny Hostin drew attention to herself by comparing Raquel Welch to Kim Kardashian.
The Hollywood legend Raquel Welch is compared to Kim Kardashian on "The View"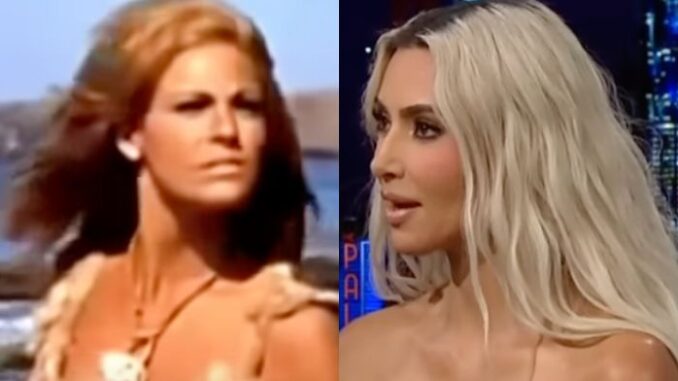 Raquel Welch, a Hollywood legend, passed away on Wednesday after a "brief illness" at the age of 82.
Her manager, Steve Sauer, told People Magazine on Wednesday that Welch "passed away peacefully early this morning after a brief illness."
A co-host on ABC's "The View" later attempted to compare Welch to Kim Kardashian, and, well, let's just say it didn't go well for her.
Sunny Hostin compares Kim Kardashian to Raquel Welch, and no one's having it. pic.twitter.com/wbcn3ghhCs

— Mike Sington (@MikeSington) February 17, 2023
Whoopi Goldberg, host of "The View," opened this week's episode by remembering Welch.
"We were so heartbroken to hear of the passing of one of the world's most enduring sex symbols — the fabulous Raquel Welch," she said. "Sail on, Raquel. Sail on."
The always-entertaining Joy Behar chimed in to praise Welch's legacy in films like Fantastic Voyage and One Million Years B.C.
"They don't make any sex symbols like that [anymore]," she said.
Then Sunny Hostin, the co-host, started in: "Well, Kim Kardashian is —"
The crowd interrupted Hostin with a resounding "No!" before she could complete her sentence.
"Kardashian?! No!" Behar yelled, and the audience kept booing. "Turning, turning! The audience is turning."
Hostin was so taken aback by the reply that she just stood there with her mouth agape.
"That's not even — you can't even put them in the same — I'm not even — look, I'm moving on," Goldberg said, with Behar adding, "Now she's ticked off!"
I'm sorry, but no female celebrity today could ever hold a candle to #RaquelWelch . She was absolutely stunning #RIP🕊️ pic.twitter.com/Mdq9thpykK

— 〽️K 💛💙🏈🏀🇺🇦🌻 (@mkgoblue) February 16, 2023
If you're familiar with Welch, you know that she's completely different from Kim Kardashian.
Despite being a sex icon for decades, Welch always declined to show any skin on screen. She "always hated feeling so exposed and vulnerable" in love scenes, she wrote in her autobiography.
Daydreams About Night Things

Raquel Welch was Absolutely Gorgeous pic.twitter.com/rT9JvcLxF5

— 𝗘𝗔𝗚𝗟𝗘🅾🅽🅴 🇺🇸 (@Mar50cC5O) February 17, 2023
"I've definitely used my body and sex appeal to advantage in my work, but always within limits," she said, according to The New York Times. "I reserve some things for my private life, and they are not for sale."