In a new Instagram video, Kim Kardashian modeled a plunging one-piece swimsuit while showing off an array of fake mini tattoos.
Kim Kardashian wears a low-cut swimsuit to show off her fake tattoos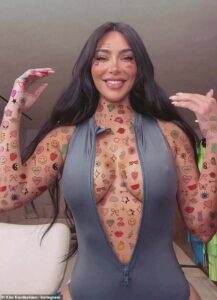 The 42-year-old TV personality was filmed while she stood in a large room, talking to the camera while using one of her signature "cute" filters.
The SKIMS founder and her younger sister Khloe Kardashian recently participated in an impromptu photo shoot, where they both sported matching bras and fitted skirts.
The reality star and mom of four posted pictures of her nine-year-old daughter North West's artwork to her Instagram stories earlier in the day.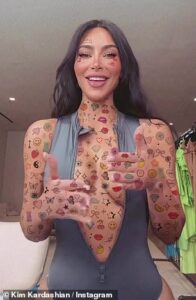 Kim's long, brunette hair, which flowed behind her in waves, was quickly adjusted at the start of the reel.
She made a facetious statement out loud: 'Every time I post this filter, you guys have to go somewhere else with it,'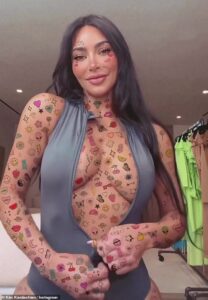 It was possible to see the socialite's midriff and cleavage because she had left the front of her dark gray swimsuit unzipped.
The tattoo filter covered almost all of her visible body, and featured designs like a butterfly, a lemon, a cherry, an emerald, and a green leaf.
Kim continued as she laughed at her reflection in the phone camera, enjoying the way her fake tattoos looked on her: 'I just like what I look like,'
The media personality continued, "I think it's so cute, right?" After a short pause, another person in the room responded jokingly, "Yeah!" from out of camera range.
The businesswoman was presumably inside in a large room with a rack of coordinated garments to her left.
The SKIMS founder uploaded a second video without the filter to better show off her dolled-up ensemble. She had on a coat of black mascara, a flush of pink, and a nude tint to her lips.
Kim aimed her phone camera at herself and smiled broadly for the camera, sending a message to her 345 million fans and followers around the world.
Later, the beauty posted a throwback video to her stories that was originally posted to a fan page called Kylie's Bae to reassure her followers that she was only joking around and had no plans to start getting real tattoos.
The clip was taken from an old interview Kim gave to The Wendy Williams Show in 2009.
You could see the talk show host asking the reality star: 'You don't have tattoos anywhere?'
After jokingly answering, "No," Kardashian continued: 'Honey. Would you put a bumper sticker on a Bentley?'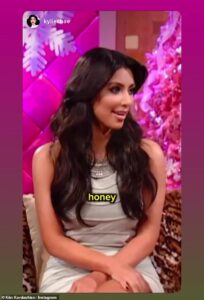 Kim recently uploaded a collection of photos showcasing North's recent artwork.
Kris Jenner, possibly one of her younger siblings, and Ice Spice, a rapper, were all depicted.
The nine-year-old girl signed her first name on the bottom right of the drawings like a real artist.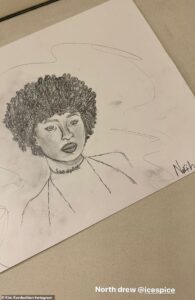 The eldest daughter of Kim and Ye shared a close look at her freestyle drawing of Ice Spice in a recent TikTok video shared on their joint account with North.
Using a photo on her laptop, she sketched the musician quickly and with little effort. The young artist proudly displayed her finished work as soon as she had finished the sketch.
Nearly 2 million people have liked the 12-second clip, and it has approximately 7.7 million views.