30 weeks pregnant and still not satisfied with her "proper bump," Holly Hagan posed in purple lingerie.
Pregnant At the 30 week mark, Holly Hagan celebrates by posing in her purple underwear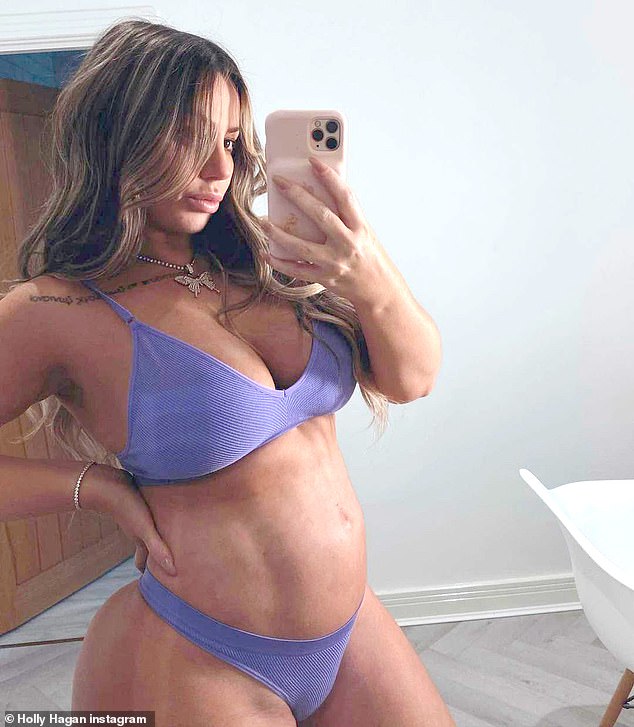 The 30-year-old reality star, who is married to football player Jacob Blyth, is expecting her first child, a son.
On Monday, Holly took a stunning mirror selfie to update her fans on her pregnancy. She was wearing a matching set of undergarments and looked absolutely incredible.
The TV star admitted that she doesn't feel like she has much of a bump despite the fact that she only has 10 weeks left to go in her pregnancy and that her baby is healthy.
"30 weeks. I honestly can't believe I only have around 10 weeks left! I still don't feel like I have a proper bump at all!"
"It took me about 100 photos until I felt like yeah that looks like a bump. Anyway, baby is happy, healthy and strong as an ox as far as I can tell from these huge movements kicking my intestines."
To quote this month's blog post: "I've done a full brutally honest bumpdate video on this months blog post."
Holly posted yet another stunning photo of her growing baby bump last week, this time in a form-fitting forest green maxi dress that, she said, "actually made me look like I have a nice bump."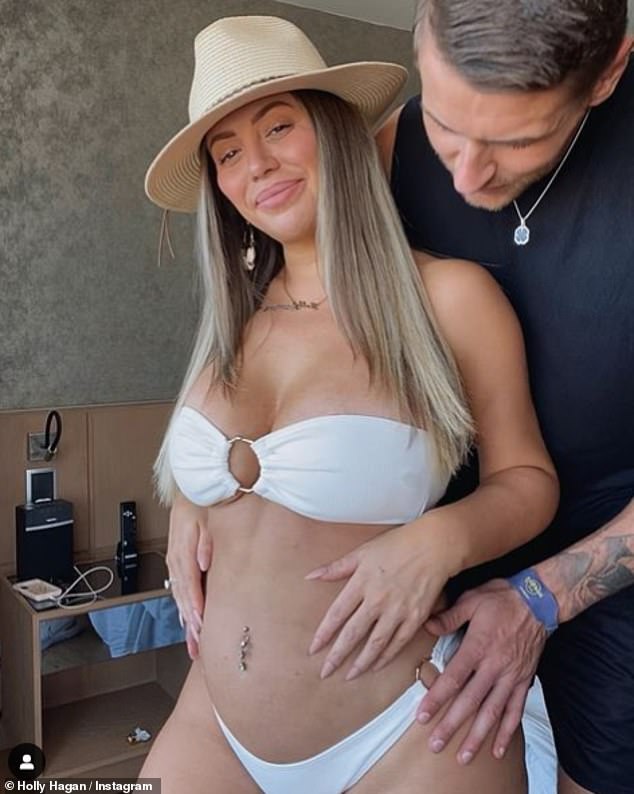 Holly's birth story will air on Geordie Shore this month, just as Charlotte Crosby's did in a separate series.
Holly's labour will feature in what is expected to be the last series of Geordie Shore after she gave her blessing for it be filmed.
According to the source, the TV star made the decision after sharing her story with Charlotte.
A source told the Sun, "Holly was torn at first about whether to share her labour with viewers, but she feels like her loyal fans have followed so much of her life that she wanted cameras to capture this too."
"She feels like it will be a beautiful souvenir of the most important day of her life. After chatting to Charlotte and seeing how incredible her footage was, she knew she wanted to do the same."
The TV star announced her pregnancy in December, just six months after her June 2018 Ibiza wedding to Jacob, a footballer in the National League.
Holly confirmed her pregnancy at 18 weeks on New Year's Day.
Holly's video wedding vows to Jacob in June showed her getting emotional as she said, "Your patience, strength and resilience inspire me every single day and I couldn't think of a strong role model for our future children."
READ NEXT: