In this article, we'll tell you everything we know about Pokémon Crown, a project that has gained popularity in the ROM hacking community.
What is Pokémon Crown ROM Hack ?
At its most basic, Pokémon Crown is a ROM hack of Pokémon FireRed & LeafGreen, remakes of the original Game Boy Advance Pokémon games. This hack takes the foundations of these GBA games and transforms Pokémon into a "Auto Chess" game, essentially a single player MOBA-style experience. Not only does Pokémon Crown add new battling mechanics to the game, but it also has its own original story and world.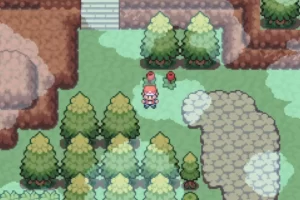 The beta version of the game was released in 2023 and is hosted on PokéHarbor. You can try it for yourself by following this link. Here's a list of features that show how this game is no longer recognizable as the ROM it's built on:
Boss fights and challenge modes
Completely redesigned battle engine. (No more turn based combat!)
Day and Night system/encounters/stuff
Every UI completely custom
New and old items have been reimagined for auto battle combat.
New catching mechanics
Online PvP
Psuedo-Open World
Quest System
Unique Pokémon Battle System with Pokémon from all generations
Vibrant Biomes to explore and catch Pokémon
This type of amateur game development is fascinating and demonstrates how fiddling around with things like emulation can eventually lead to much bigger things.
About Pokémon FireRed & LeafGreen
Pokémon FireRed Version and LeafGreen Version are remakes of the 1996 Game Boy role-playing video games Pokémon Red and Blue released in 2004. They were created by Game Freak and released for the Game Boy Advance by The Pokémon Company and Nintendo.
Pokémon FireRed & LeafGreen

Developer(s)
Game Freak
Publisher(s)

Nintendo
The Pokémon Company

Director(s)
Junichi Masuda
Producer(s)

Hiroyuki Jinnai
Takehiro Izushi
Hiroaki Tsuru

Designer(s)
Junichi Masuda
Shigeru Ohmori
Programmer(s)
Tetsuya Watanabe
Artist(s)
Ken Sugimori
Writer(s)

Hitomi Sato
Satoshi Tajiri

Composer(s)

Go Ichinose
Junichi Masuda

Series
Pokémon
Platform(s)
Game Boy Advance
Release

JP: January 29, 2004
NA: September 9, 2004
AU: September 23, 2004
EU: October 1, 2004

Genre(s)
Role-playing
Mode(s)
Single-player, multiplayer