The NFL playoffs began with a dramatic Super Wild Card Weekend, and now only eight teams remain. As we get closer to the Super Bowl, here are the major injury concerns for each player.
Frank Clark, Azeez Ojulari, Lane Johnson and Samson Ebukam: Divisional Playoff Games Predictions and Injury Updates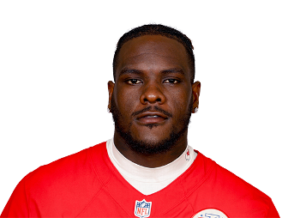 SUMMARY
Frank Clark
Azeez Ojulari
Lane Johnson
Samson Ebukam
RELATED NEWS: Divisional Round Playoff Games: Updates on Isaiah McKenzie, Jamison Crowder, Dane Jackson and Clyde Edwards-Helaire
1. Frank Clark
As James Palmer of NFL Network writes, Clark (groin) took part in a limited capacity during Tuesday's practice.
During the playoff game against the Raiders, Clark strained his groin. After the team's bye week, he wasn't supposed to miss any action, so his reduced involvement is cause for concern. But with three days until Saturday's divisional round game against the Jaguars, Clark still has time to recover.
2. Azeez Ojulari
Dan Duggan of The Athletic reports that Ojulari (quadriceps) was a limited participant during Wednesday's practice but that he plans to play in Saturday's divisional-round matchup against Philadelphia.
In spite of missing back-to-back practices to kick off preparation, Ojulari is expected to play on Saturday. His effectiveness, however, will depend on how much pain he can tolerate.
The linebacker's second season was marked by injury and ineffectiveness, with only seven regular-season games played but 5.5 sacks and three forced fumbles to show for it.
SEE MORE: NFL Injury Report Divisional Playoffs: Micah Hyde, Jonah Williams, Jason Peters and Trevor Lawrence Injury Updates
3. Lane Johnson
A groin injury forced Lane Johnson to miss the final two weeks of the regular season, but he is expected to return for the playoffs. The right tackle for the All-Pro first team was spotted at last week's practice.
Johnson has set a PFF record for most snaps and games without allowing a sack in a two-season span. Along with teammate Jason Kelce, he was the only offensive lineman in the NFL who did not allow any sacks or quarterback hits.
When Johnson wasn't in the lineup, the Eagles were pressured on over 36% of passing snaps, compared to only 30% when he was.
Nick Wagoner of ESPN.com reports that Head Coach Kyle Shanahan said Monday that Ebukam (ankle) is day-to-day leading up to this weekend's NFC divisional round.
While Ebukam was forced to leave Saturday's win over Seattle due to an ankle injury, Head Coach Kyle Shanahan said the sixth-year pro might have been able to come back into the game had the score been more competitive.
Thus, it appears as though Ebukam will be available to play against the victor of Monday's game between the Buccaneers and the Cowboys, though his practice participation during the week should indicate his weekend availability.