As the NFL playoffs narrow to eight teams, injuries rise. As the postseason continues, teams, especially offenses, are at full strength due to few weekend injuries. Only teams still playing will be examined for injuries.
NFL Injury Divisional Round: Isaiah McKenzie, Jamison Crowder, Dane Jackson, and Clyde Edwards-Helaire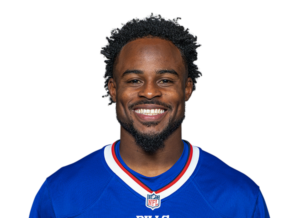 ALSO READ: NFL Injury Report Divisional Playoffs: Latest news on Jimmy Garoppolo, Jauan Jennings, Tony Pollard and Mecole Hardman
Isaiah McKenzie
Jamison Crowder
Dane Jackson
Clyde Edwards-Helaire
Let's get started.
1. Isaiah McKenzie
UPDATED: January 18th, 1:45 PM ET – Though Isaiah McKenzie claimed to be 90% healthy before last week's game, the Bills appeared to be taking no chances by benching him.
On Wednesday, he was asked by the media if he plans to play this weekend, and he responded "Yes." McKenzie is pumped up and ready to play for the Bills in their playoff match.
Isaiah McKenzie said he was about 90% healthy. Didn't run today because it was a light practice.

"You good to go Sunday?"
McKenzie: "Yes."#Bills

— Thad Brown (@thadbrown7) January 18, 2023
While the Bills were in the midst of their practice week, Isaiah McKenzie suffered a hamstring injury that would ultimately keep him out of the Wild Card game against the Dolphins.
This coming Sunday is a game day for the Bills, so it's possible that McKenzie will make a return. He caught 42 passes during the regular season, good for fourth on the team.
The Bills' thrilling Sunday victory was aided by the efforts of Cole Beasley, who scored a touchdown despite McKenzie's absence.
Even though we haven't seen Jamison Crowder since he fractured his ankle in Week 4, he has been practicing and appears to be getting closer to returning to action.
If the Bills continue to do well in the playoffs, Crowder may end up coming back. Crowder's return wouldn't hurt Buffalo if Isaiah McKenzie is unable to play this weekend.
When asked by reporters on Monday, head coach Sean McDermott said he wasn't sure if Crowder would play this weekend. What happens at this week's practice sessions will be interesting to watch.
Sean McDermott says he doesn't know yet if Jamison Crowder will be available to play this weekend. Says Micah Hyde will NOT play.

— Sal Capaccio 🏈 (@SalSports) January 16, 2023
3. Dane Jackson
Michael Giardi of NFL Network reports that head coach Sean McDermott says Jackson's (knee) status is day-to-day.
Jackson left Sunday's victory over the Dolphins due to injury and did not return. Up until game time, his participation in the AFC divisional round is questionable at best.
If his injury is serious enough, the Bengals will see more of Kaiir Elam and Taron Johnson in key roles. Michael Giardi of NFL Network reports that head coach Sean McDermott says Jackson's (knee) status is day-to-day.
SEE MORE: Dallas Cowboys plan to keep Brett Maher and to sign Tristan Vizcaino
4. Clyde Edwards-Helaire
UPDATED: January 18th, 1:45 PM ET – Clyde Edwards-return Helaire's to practice on Tuesday marked the beginning of the 21-day period during which he will be eligible to return to game action.
Even if he does return, the emergence of Jerick McKinnon and Isiah Pacheco in the backfield makes it unclear how much of a role he will play. The Jaguars game will be a good test for CEH's ability to make the field.
Clyde Edwards-Helaire back at practice, talking to Jerick McKinnon and Patrick Mahomes. Jody Fortson back with the team as well. #Chiefs pic.twitter.com/VzkjZPM8gs

— Harold R. Kuntz (@HaroldRKuntz3) January 17, 2023