Though the titles for a number of Marvel Studios' upcoming films, such as Black Panther: Wakanda Forever and Ant-Man & The Wasp: Quantumania, are a little long, we'll all know them as the projects that marked the end of the MCU's Phase 4 and the start of Phase 5 — two chapters in the Multiverse Saga.
MCU's Phase 5 Plans Timeline
Marvel has recently used its large presentation in Hall H at San Diego Comic-Con to do the big roll-out of Phase 5 of the Marvel Cinematic Universe. Phase 4 will begin when She-Hulk debuts on television, and Wakanda Forever, the Black Panther sequel, will hit theaters on November 11, 2022.
While we're still waiting for a trailer for the new Black Panther: Wakanda Forever, Marvel CEO Kevin Feige did lay out a plan for the studio's content over the next few years, with Phase Five apparently stretching to July 26, 2024, when Disney will release a film based on Marvel's go-to team of villains who pretend to be heroes, Thunderbolts.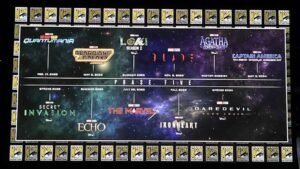 So there you have it: Six films and several TV shows comprise a new reinvention for Marvel as a whole. That is:
Ant-Man And The Wasp: Quantumania – 2/2023
Guardians Of The Galaxy Vol. 3 – 5/2023
The Marvels – 7/2023
Blade – 11/2023
Captain America: New World Order – 5/2024
Thunderbolts – 7/2024
Plus, on the TV side:
Secret Invasion – Spring 2023
Echo – Summer 2023
Loki Season 2 – Summer 2023
Ironheart – Fall 2023
Agatha: Coven of Chaos – Winter 2023
Daredevil: Born Again – Spring 2024
Marvel Wiki
Marvel Cinematic Universe

Created by
Marvel Studios
Original work
Iron Man (2008)
Owner
The Walt Disney Company
Years
2008–present
Print publications
Book(s)
Marvel Cinematic Universe books
Comics
Marvel Cinematic Universe
tie-in comics
Films and television
Film(s)
Marvel Cinematic Universe films
Short film(s)
Marvel One-Shots
Television series
Marvel Cinematic Universe television series
Web series
Marvel Cinematic Universe digital series
Television special(s)
Marvel Cinematic Universe television specials
Games
Video game(s)
Marvel Cinematic Universe video game tie-ins
Audio
Original music
Music of the Marvel Cinematic Universe
Miscellaneous
Theme park attraction(s)
Marvel-themed attractions