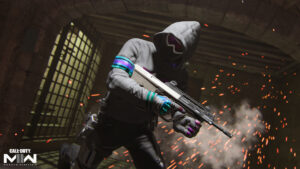 Keep reading to learn about the upcoming Season 2 of MW2, including its expected release date, ranked mode, new maps, weapons, and more.
MW2 & Warzone 2.0 Season 2 release date
Season 2 for MW2 and Warzone 2.0 will be available on February 15th at 9:00 PST, 12:00 EDT, and 17:00 GMT.
Season 02 will be launching on February 15. Stay tuned for additional intel. pic.twitter.com/G80TiutG62

— Call of Duty (@CallofDuty) January 18, 2023
How to preload the Warzone 2 and MW2 Season Two update
Once the preload goes live, the process is extremely simple to follow. In most cases, your update will start automatically. Just let it download and you'll be ready as soon as Season Two begins.
MW2 Season 2 patch notes
Ranked mode
It has now been confirmed that Ranked Mode will be added to Modern Warfare 2 with the release of Season 2. The news was confirmed in the Call of Duty blog's deep dive into Season 2.
It will include the following as part of the mode (as confirmed by a Treyarch tweet):
Competitive Modes
Competitive Rewards
Ranked Skill Divisions
Top 250 Leaderboard
Visible Skill Ratings
MW2's ranked play could function similarly to Call of Duty Vanguard's ranked system. The mode will use CDL-approved rules, restrictions, maps, and modes, and players will be able to earn unique rewards. There will be seven skill divisions ranging from Bronze to Iridescent, as well as a top 250 who will be recognized on a special leaderboard.
In addition to your Skill Rating, you'll progress through a series of Ranked Play ranks. These are permanent and will not be reset between seasons. Everyone starts at 1 and works their way up to 50, with rewards every five ranks.
New modes
Infected
Gun Game
Grind
Drop Zone
All or Nothing
One in the Chamber
New skins
Roze 'Sheathed Blade'
Nova 'Ruthless Pursuit
New weapons
ISO Hemlock (assault rifle)
KV Broadside (shotgun)
Crossbow (marksman rifle)
Dual Kodachis (melee)
Tempus Torrent (marksman rifle)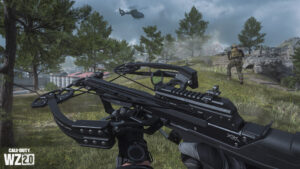 The ISO Hemlock and KV Broadside will be available in the battle pass at launch, while the Dual Kadachis will be available for free to all players. The Crossbow is the most exciting weapon here, and it will be available during the launch window after completing seven Path Of The Ronin event challenges. The final weapon is the Tempus Torrent, which will be released much later in the season, most likely around the Season 2 Reloaded date.
New maps
Dome (6v6)
Valderas Museum (6v6)
Al Malik International (Battle Map)
Zaya Observatory (Battle Map)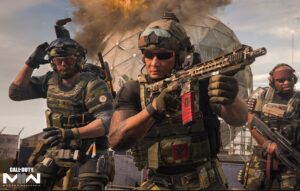 Season 2 will include two new standard multiplayer maps as well as two additional large-scale battle maps. Dome is bringing multiplayer back for the standard maps. The second standard map is Valderas Museum, which was first seen in Modern Warfare 2's beta but was later removed. Finally, the Zaya Observatory and Al Malik International locations in Al Mazrah will serve as the two new maps for Ground War and Invasion modes.
Hardcore mode returning
While Tier 1 existed and offered a comparable experience, many fans eagerly awaited the official Hardcore playlist. Now we are certain that it will return in Season 2 to replace Tier 1 modes.
Breaking: Hardcore mode to return to #ModernWarfare2 Multiplayer with Season 02.

More info to come. pic.twitter.com/I0hsmmcCKe

— CharlieIntel (@charlieINTEL) January 22, 2023
Ronin Operator
Season 2 of Modern Warfare 2 introduces the Ronin Operator. The Operator debuted in Modern Warfare 2019, so his return in the sequel does not come as a surprise.
Raid Episode 2 announced for Season 2
Price, Farah, and Gaz will return later in Season 2 with Episode 2 of the Raid, according to Infinity Ward.
Modern Warfare 2 Season 2's playlists
Call of Duty's Valentine's Day playlist has returned, according to a recent Community Update. The specifics are still being kept under wraps at the time of writing. During Season 2, Infinity Ward plans to host a Twitter poll once a month, allowing players to "vote on one of that week's playlists from a rotating pool.".
Warzone 2.0 Season 2 patch notes
New map
Ashika Island, a bite-sized layout designed from the ground up for fast-paced Resurgence gameplay, is on the way. According to Infinity Ward, Ashika Island is "roughly 30% larger than previous small maps."
Welcome to Ashika Island 🌊

Drop into the brand new free-to-play #Warzone2 small map, featuring Resurgence and DMZ on February 15th 🪂#ResurgenceReturns pic.twitter.com/u4ToibP3U7

— Infinity Ward (@InfinityWard) January 31, 2023
A complete list of all POIs is provided below:
Tsuki Castle
Town Center
Beach Club
Port Ashika
Shipwreck
Residential
Oganikku Farms
In addition, the DMZ Exclusive Zone has been expanded to include this new map.
New event
At the start of Season 02, the Path of the Ronin Challenges will give all Operators seven Warzone 2.0 or Modern Warfare II challenges based on the Seven Virtues of Bushido: Integrity, Respect, Courage, Honor, Compassion, Sincerity, and Loyalty. Complete all of them to unlock the new Crossbow functional weapon.
Resurgence mode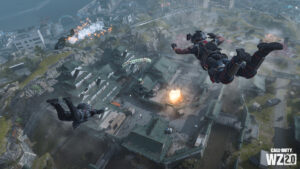 Resurgence allows for multiple respawns as long as one squad member remains standing and is available for all squad sizes – Solos, Duos, Trios, and Quads – within regular Playlist updates throughout the season.
The last squad standing wins regardless of how many redeployments they required to stay in the game.
New DMZ missions
A new faction called Crown will add more intrigue to the game, as well as a refresh of familiar missions and rewards, granting Operators new permanent unlocks such as Operator Skins and Weapon Blueprints, as well as Contraband.
New features
1v1 Gulag
New public event data heist (in-season)
Redeploy drone (in-season)
search and seizure contract (in-season)
Restore honor mechanic
Personal water craft (PWC)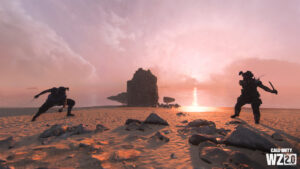 New DMZ boss – The Bombmaker
The Bombmaker's location is unknown, but Operators will find him on Ashika Island. He holds a new Weapons Case for Season 02, which contains all-new permanent rewards for Operators to display both inside and outside of the DMZ.
General changes
Infinity Ward has detailed major changes to MW2 and the Warzone sequel. Users can expect the previously removed audio occlusion system to return to Multiplayer.
In response to Ghost Perk issues, the developers "updated the rate at which the bonus and ultimate perks are earned." This should cut the cost of the bonus perk by half, and the cost of ultimate by a quarter. This change will allow players to obtainGhost much earlier in matches.
Season 2 raises the maximum Prestige rank to 10, allowing players to reach level 500. Each rank unlocks a set of challenges that must be completed in order to obtain Calling Cards.
Season 2 will include leaderboards for Modern Warfare 2 multiplayer.
That wraps up everything we know about MW2 and Warzone 2.0 season 2, including the release date and other updates to look forward to.