FaZe Swagg bet that if the developers add Joker and Spiderman skins to Warzone 2 and MW2, he'll get an ass tattoo.
FaZe Swagg bets ass tattoo to get MW2 Joker & Spiderman skins
Please @CallofDuty @RavenSoftware I'll get another ass tattoo pic.twitter.com/3OAaBhDf75

— FaZe Swagg ☢️ (@Swagg) January 8, 2023
Swagg has recently requested that the developers implement two fan-made skin concepts, the Joker and Spider-Man, in anticipation of the upcoming Season 2 of MW 2. These skins combine the FaZe Clan's trademark masked designs and body armor with a gun sling and weaponry reminiscent of Call of Duty, and the member of the FaZe Clan boasted on Twitter that he would get another ass tattoo for them.
Comicbook Content, a TikTok user, is the brains behind these fan-made skin concepts. Both of these designs have been well received by Call of Duty fans, with Swagg's tweet currently boasting over 17,000 likes.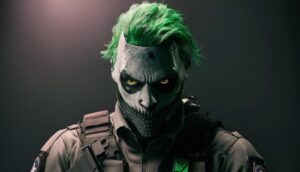 This request, however, appears difficult to grant for a number of reasons. One of them is that The Joker and Spider-Man are from different DC and Marvel franchises, so Activision would have to launch two separate crossovers. Given that there hasn't been a single official crossover in Call of Duty's new era, bringing two of the most prominent comic book characters to the FPS shooter franchise may be a stretch.I
t's not impossible, though, since Epic Games covered both of these crossovers in Fortnite and King Kong and Godzilla have appeared in previous Call of Duty deals, but it might be a while before we see another inked gluteus maximus.
About FaZe Clan
FaZe Clan
Short name
FaZe
Games

Counter-Strike: Global Offensive
FIFA Online
Fortnite
PlayerUnknown's Battlegrounds
PUBG Mobile
Rocket League
Tom Clancy's Rainbow Six Siege
Valorant
Halo Infinite
Super Smash Bros. Ultimate

Founded
May 30, 2010
Location

Los Angeles, California, U.S.
New York City, New York, U.S.

Colors

Owners

Thomas "Temperrr" Oliveira
Yousef "Apex" Abdelfattah
Nordan "Rain" Shat
Brian "Rug" Awadis
Richard "Banks" Bengston
Alexander "Adapt" Prynkiewicz
Nicholas "Nickmercs" Kolcheff
Kiari "Offset" Cephus
Jimmy Iovine
Paul "DJ Paul" Beauregard

President
Zach Katz
CEO
Lee Trink
Partners

Ghost Energy
SteelSeries
Nissan
Moonpay
McDonald's
DraftKings
Scuf Gaming
Respawn
Current
Totinos
G-Fuel

Website
fazeclan.com
YouTube information
Channel
Years active
2010–present
Genre
gaming
Subscribers
8.64 million
Total views
1.14 billion