FIFA 23, the latest installment in EA's landmark FIFA football series, is set to arrive later this year. FIFA 23 brings innovations never seen in the world of videogame football, whether you're on a pitch or behind the scenes making various decisions in career mode, and it's coming to PlayStation 4 and 5 with crossplay 1-v-1 modes between versions. This FIFA is stepping up and showcasing EA's progression with the series, with improved physics and graphics, as well as, for the first time, women's club football integration, including a playable women's FIFA World Cup.
Sony announces FIFA 23 for PS4/PS5
Authentic Football Controlled By You

One of FIFA 23's main goals is to be the most authentic entry in the series yet. EA has improved its HyperMotion 2 motion capture system to make players appear more realistic than ever before. Players now run, kick, and block with such realistic motions that you may forget you're playing a football videogame.
EA demonstrated several features made possible by this cutting-edge technology. FIFA 23 includes augmented reality broadcast replays, which make the game more immersive. The environments have also been improved, with Hyper-realistic pitch surfaces and an improved stadium atmosphere that includes the most audience chants and animations in the series.
The world isn't the only improved feature of FIFA 23. Players and the sport itself have been improved, with more realistic physics present in all areas of the game.
With 19,000+ players, 700+ teams, 100 stadiums, and 30+ leagues in FIFA 23, you'll be entertained for hours.
Even More Player Control

Another goal is to ensure that the gameplay in FIFA 23 allows for even more player input. The new mechanics are designed to give you complete control over how you pass, score, and move. A new skill-based risk-reward shooting mechanic, more intuitive free kicks, penalties, and corner shots are among the new features.
A World Of Game Modes
FIFA 23 includes a plethora of modes in which you can put all of the visual and mechanical upgrades to the test. FUT Moments is one of those, in which you can create your own squad of new ICONS, FUT Heroes, and anyone else you can think of.
You can also compete in the FIFA World Cup from the comfort of your own home. The men's FIFA World Cup Qatar 2022 and the FIFA Women's World Cup Australia and New Zealand 2023 are all available to watch live.
The newly added Training Centre is ideal for newcomers to the FIFA series. It contains numerous challenges and chapters, each designed to teach less experienced players the fundamentals of gameplay and help them improve.
Pro Clubs, Volta Football, and Career Mode add new ways to interact with FIFA 23.
With new customization, Drop In enhancements, and new perks in Pro Club mode, you can bring your own style to the game.
Volta Football adds more style points to the game by allowing you to show off your Avatar in upgraded Volta arcades with friends and the rest of the community.
Career Mode allows you to create your own player, manage some of the biggest names in sports history, and play through an entire season. For the first time, it also adds new playable highlights to the FIFA series.
Finally, whether you're on PlayStation 4 or PlayStation 5, you can compete in 1v1 modes against friends on the same platform generation via crossplay.
Marvel's Spider-Man Remastered

PC

 features revealed
First off, let's touch on the graphics features newly available in the PC version of Marvel's Spider-Man Remastered. Our goal was to make this game a visual stunner on the PC platform and that meant opening up extensive configurability to PC users with varying hardware, as well as introducing some new techniques and tools to push things even further. To provide an abbreviated list:
Ray-traced reflections are available across the game for those with hardware that supports them. Reflections also have varied quality levels, one of which is a new, higher-quality ray-traced mode that offers even more city detail when web-swinging and fighting 

crime

 in Marvel's New York.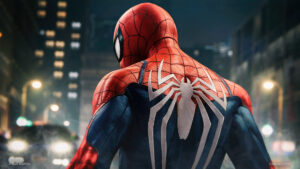 NVIDIA DLSS (Deep Learning Super Sampling) increases graphics performance using dedicated 

Tensor

 Core AI processors found only on GeForce RTX GPUs, boosting frame rates with uncompromised image quality.
NVIDIA DLAA (Deep Learning Anti-Aliasing) is an AI-based anti-aliasing mode for GeForce RTX gamers who have spare GPU headroom and want higher levels of image quality.
Beyond choosing output resolutions, we also support a wide range of display ratios, including ultrawide 21:9, panoramic 32:9, and NVIDIA Surround multi-monitor setups.* If you've got three monitors, we've got the game for you to show them off with!
Many other rendering systems are more customizable than they have been in the past, with additional quality levels and algorithmic options. These include SSAO, texture filtering, LoD quality, shadows, and more. We support windowed, full screen, and exclusive full screen rendering modes.
In addition to PC graphical features, there are multiple peripherals and customization options With PlayStation DualSense wireless controller support, PC players will get to experience adaptive trigger feedback and amazing haptic response while battling iconic Marvel villains.**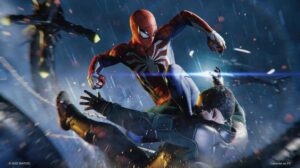 Mouse and keyboard support—during gameplay and throughout the game's UI—provide a completely different customizable control option for those who prefer it. With Steam Input support, there are innumerable remapping options available, and the game will also offer multiple accessibility features. Marvel's Spider-Man Remastered will also support achievements and cloud saves on both Steam and the Epic Games Store.
"While we've clearly been working hard to add higher-end graphical features for those with powerful gaming rigs and fancy new graphics cards, we've also been trying to ensure that people with all sorts of PCs are able to enjoy Marvel's Spider-Man Remastered to its fullest," Fitzgerald explained. "As such, we can now announce some details about minimum and recommended specs, as well as specs for various graphical preset levels."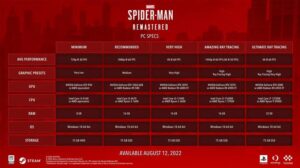 Now that you know what you're getting with our new PC version of Marvel's Spider-Man Remastered, you're surely counting down the days to its August 12 release. Luckily, I'm excited to announce that we're also offering a pre-purchase item pack. If you pre-purchase ahead of the game's launch, you'll get:
Early unlock for three Spider-Man suits
The tech-heavy Iron Spider Suit
The one-of-a-kind Spider-Punk Suit
The original Velocity Suit
An early unlock of the Spider-Drone combat gadget
5 extra skill points to spend on Spidey upgrades