For the most part, Netflix's The Gray Man is a damn delight. In this film, Ryan Gosling plays Mark Greaney's freelance assassin and former CIA operative Court Gentry, whose name is mostly avoided in favor of his code designation, Sierra Six. For Gosling fans who loved Drive, this feels like a slightly pumped-up, dumbed-down version of that character, with a lot more to say about how he doesn't actually have much more to say.
If exploding planes and people falling through the air while strangling each other will suffice in a $200 million movie, it's all good. As directors, the Russo brothers don't necessarily have the most distinct style in the world. The Gray Man, on the other hand, demonstrates what they could have been aiming for. These fight scenes frequently become subjective. It's more visually Bourne than Gladiator, and a significant step up in fighting from the Captain America sequels.
This is demonstrable in large part because Captain America, Chris Evans, is here to fight, albeit as a villain. Evans plays Lloyd Hansen, a smarmy, sociopathic independent contractor who performs CIA-style dirty work with little regard for protocol or the law. Six, played by Ryan Gosling, is a CIA hitman who discovers some damning secrets about his own employers and becomes the target of both the legitimate CIA and their not-so-legitimate associate, Lloyd.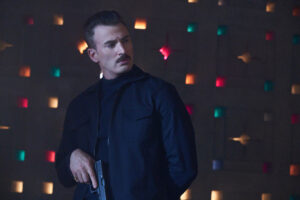 The relatively simple plot spans the globe, presumably so that the Russos can stage exciting action sequences in different countries. An early fight sequence in a Bangkok fireworks display is especially exhilarating, and a European train chase features Six atop a runaway locomotive, using the mirrored sides of skyscrapers he rushes past to target his enemies below. There's a bit of a cheat during the big climax when the fog rolls back to suddenly reveal a major scenic location we've never seen before, but it's so hilariously over-the-top that few furrowed brows should interrupt the audience's action ecstasy.
The original plot of Greaney has been changed. Billy Bob Thornton takes the place of an English mentor figure for Six. He first appears in flashback wearing a hideous toupee, savoring every syllable of the "Bubblicious Watermelon Wave" he offers Gosling as a rare prison treat. When the film moves forward to the present, Thornton is less amusing but no less compelling, bringing a layer of resigned masochism to his life as a company man. Rege-Jean Page, who has been mentioned as a possible future James Bond, demonstrates that he is at least capable of playing one of the super spy's villains as the man behind Lloyd's heinous antics.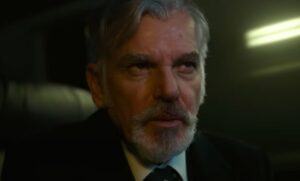 But it's Julia Butters who once again proves to be a secret weapon, as the young, pacemaker-laden hostage whom Six must ultimately save. We need to believe this laconic executioner can bond with a literally heart-broken girl who lives in brutal isolation, and we do—they're both hurt children, but only one is dealing with it at the appropriate age.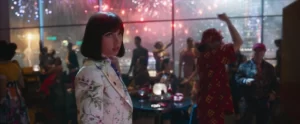 While superhero films have conditioned us—and perhaps their directors and writers—to expect at least two hours of screen time, the pace doesn't always warrant it, and The Gray Man has perhaps one ending too many. That said, I'll tune in for more Sierra Six movies if they keep making them. Gosling's one of those actors for whom a recurring action hero role somehow feels long overdue, and the Russos have taken advantage of more than just his good looks and smoldering gazes.