A meme claiming that today, July 31, 2022, is George Jetson's birthday has been going around online this weekend and has been for a while now, long enough to have received the Snopes treatment. In other words, the actual birthday of George Jetson, when this animated sap will first be exposed to the cruel world that will treat him, leaving him to spin endlessly on a futuristic treadmill leading to hell. It's clear that said meme has a surface appeal: It addresses the gap between the future envisioned by speculative fiction authors and the world in which we currently live. It is a textbook update of the old "Where are the flying cars?" question.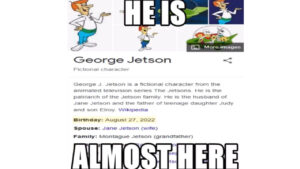 But there should, in theory, be a real answer to the question. However, The Jetsons isn't like Terminator or Back to the Future, where we get nice, easy readouts of the dates of various futuristic events, so that presents a problem in terms of answering the question. Instead, it's a silly cartoon that usually made an effort to hide the actual dates that its extremely bizarre vision of the future occurred.
 Is George Jetson actually getting born today?
Let's begin by talking about the date: There is no canonical proof that George Jetson was born on July 31 as far as we know. It doesn't appear that any episodes are set during it, it never appears to have been mentioned as a plot point in any of the show's three seasons, and the only source ever cited for it is a fandom wiki that is simple to edit. So that part has been disproven and is unquestionably no longer funny.
Meanwhile, the 2022 part has a smidgeon of canonicity to it. As Gizmodo pointed out a few years ago, there is text implying that George Jetson is, in fact, 40 years old. (For example, in 1962's "Test Pilot," when told he might live to 150, George remarks that he only has 110 years to live.)