LaMelo Ball (born August 22, 2001) is an American professional basketball player for the National Basketball Association's Charlotte Hornets (NBA). The Hornets selected him with the third overall pick in the 2020 NBA draft.
The Hornets' LaMelo Ball's latest injury status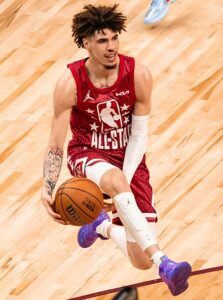 Injury:
Injury status: Active
UPDATE (Feb. 02):
On Tuesday, despite playing all 40 minutes, Ball finished with 27 points (10-26 FG, 3-9 3Pt, 4-6 FT), 10 rebounds, 11 assists, three blocks, and three steals in the Hornets' 124-115 loss to the Bucks.
In the defeat, Ball recorded his eighth career triple-double and added six steals and blocks for good measure. Ball, despite having suffered multiple ankle injuries, has seen his scoring numbers improve as of late.
His effectiveness is still being refined, especially over the past two months when he has shot less than 35% from the field. His career stats indicate a leveling off is imminent, provided he maintains his current level of health.
UPDATE (Jan. 31):
On Sunday, in a 122-117 victory over the Heat, Ball finished with 19 points (7-17 FG, 4-13 3Pt, 1-1 FT), 7 rebounds, 7 assists, 1 block, and 1 steal in 36 minutes of action.
On Sunday, Ball was one of five Hornets players to score in double figures. He also tied for the team lead in assists and was right there with the leaders in rebounds. In 13 games this season, including the last two, Ball has recorded at least 15 points, five assists, and five rebounds.
I'm hoping he can carry that strong play into tonight's game against the Bucks.
UPDATE (Jan. 29):
Ball (ankle and wrist) finished Thursday's 111-96 win over the Bulls with 15 points (2-15 FG, 2-11 3Pt, 9-10 FT), 11 rebounds, and 8 assists in 37 minutes.
Even though Ball's third multi-game absence of the season, which was caused by a sprained left ankle, was shorter than his first two, the star point guard had a rough night when he came back. After going 2-for-15, Ball's field-goal percentage for the season dropped to 40%, but at least he filled out all the categories.
Ball didn't have any limits on how much he could play, which is probably more important. This gives us hope that his ankle injury and his less serious right wrist injury won't slow him down in the future.
UPDATE (Jan. 26):
LaMelo Ball's availability for Thursday's game against the Bulls is in question due to ankle and wrist injuries.
Because of a sprained left ankle and a sore right wrist, Ball has been sidelined for the past three games in a row. It is not clear which of the problems is more serious; however, it does not appear that he is making much headway in resolving any of them. In the event that Lonzo Ball misses his fourth game in a row due to injury, Terry Rozier will almost certainly get the nod to start at point guard, while Dennis Smith and Bryce McGowens see increased playing time. After their contest on Thursday, the Hornets will play their next game on Sunday against the Miami Heat.
UPDATE (Jan. 23):
Lamelo Ball's availability for Monday's game against the Jazz is in doubt due to an ankle injury and a wrist injury.
Because of ankle and wrist issues, Ball missed Saturday's game against Atlanta and will be questionable for Monday's contest. Though he was initially listed as doubtful for Saturday's game, the fact that he is questionable to play against Utah is encouraging. If Ball is unable to play on Monday, Dennis Smith and Bryce McGowens will see increased playing time.
UPDATE (Jan. 20):
The Charlotte Hornets defeated the Houston Rockets 122-117 on Wednesday night, but in the process, LaMelo Ball suffered another injury. It's the third time in as many seasons that he's injured his left ankle.
His participation in the remainder of Wednesday's game has been officially canceled. Over the course of 20 minutes, he shot 4/16 from the field, 2/8 from deep, and 3/3 from the line for a total of 13 points, 4 dimes, and 1 board.
Sometime in the third quarter, PJ Washington stepped on LaMelo's left foot, causing an injury. Both players went down, but only Melo required assistance getting back up.
After the game was over, the media approached LaMelo Ball to inquire about his feelings on re-injuring the same ankle. There's no need for an X-ray, according to Ball, who mentioned as much.
The Hornets star said: "I can walk and everything, So I'll just take it day by day and see what it is. It doesn't feel like them other ones so I think I'll be straight."
The player's perception of the severity of his injury has been tempered by subsequent experiences, leading him to believe that it is not as bad as the first few times. The fact that he is able to carry it around unconcernedly is what convinces him.
UPDATE (Dec. 18):
Ball has returned from a long injury and is set to play against the Nuggets on Sunday.
Ball will miss his fifth consecutive game after aggravating an ankle injury that has kept him out for the first month of the season. Dennis Smith (ankle) is also out, so Theo Maledon, Terry Rozier, James Bouknight, and Bryce McGowens are all potential starters.
LaMelo Ball (ankle) will miss the Timberwolves' game on Friday.
Ball is still recovering from an ankle injury that occurred late in his third appearance for Charlotte this season.
About LaMelo Ball
No. 1 – Charlotte Hornets

Position

Point guard

League

NBA

Personal information

Born

August 22, 2001
Anaheim, California, U.S.

Listed height

6 ft 7 in (2.01 m)

Listed weight

180 lb (82 kg)

Career information

High school

Chino Hills

(Chino Hills, California)

SPIRE Academy

(Geneva, Ohio)

NBA draft

2020 / Round: 1 / Pick: 3rd overall
Selected by the Charlotte Hornets

Playing career

2018–present

Career history

2018

Prienai

2018

Los Angeles Ballers

2019–2020

Illawarra Hawks

2020–present

Charlotte Hornets