After breaking up with Travis Scott, Kylie Jenner made a lot of noise when she kissed her "forever valentine" and best friend Anastasia "Stassie" Karanikolaou in a steamy way.
Kylie Jenner kisses BFF Anastasia 'Stassie' Karanikolaou in sweet Valentine's Day Post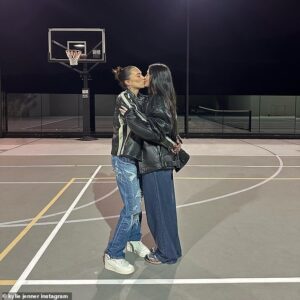 Kylie Jenner sent fans into a frenzy by kissing her best friend Anastasia Karanikolaou on Valentine's Day.
The reality star, 25, declared her best friend her "forever Valentine" as they kissed and posed for photos on a basketball court while wearing matching leather jackets.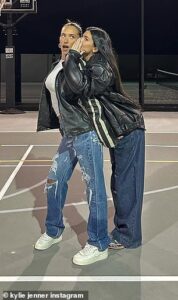 Kylie dressed for the photoshoot in a trendy oversized leather jacket, loose jeans, and sneakers.
Her hair was done up in loose waves, and her makeup was very bright and fresh looking.
The stunning Stassie, as Anastasia is known, replied to Kylie's text with the words "forever & then some" while dressed in a racer-style leather jacket, ripped jeans, and sneakers.
The make-up magnate captioned a series of steamy photos with, "Forever valentine," with one showing Kylie seemingly whispering something in Stassie's ear.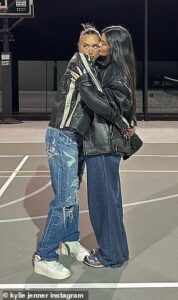 Sweet pictures capture the tender moment the girls embrace and another shows them holding their fingers over their lips as if to hush each other.
In the third photo, Kylie is seen casually kissing Anastasia on the cheek as they embrace, both of them wearing more relaxed outfits.
Four pictures in a row show the couple kissing and then embracing each other, holding each other close and smiling at the cuteness of the moment.
One friend wrote, "Besties forever," followed by several heart-shaped emojis.
To which Anastasia quickly responded, "forever and then some."
The photos have been "liked" over 800,000 times. And a second fan commented, "Goals: need a friendship like this,"
After recently uploading a picture of herself in a skintight latex catsuit, Kylie has once again stunned her audience with a new upload. The celebrity was all made up except for her lips, which were left bare.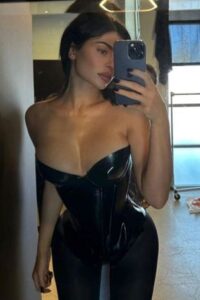 Kylie tucked one ear of her long, dark hair behind her head and flashed the camera a seductive grin as she posed in front of the mirror. She put on quite a show as she writhed into the tight corset that accentuated her curves.
Her adoring public wasted no time in letting her know how much they loved the post, with many commenters praising the star for her honesty.