Khloe and Thompson's relationship has been hampered by cheating. Most recently, Tristan fathered a child with another woman while he was expecting a baby with Khloe via surrogate.
Fans of Khloe Kardashian are once again wondering if she is back with Tristan Thompson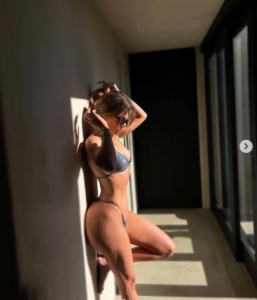 The Good American founder posed in a revealing silver bikini, and her 31-year-old boyfriend, Tristan, liked the photo on Instagram.
Unfortunately for Khloe and the basketball player, Tristan has a child by another woman while he is expecting a child with Khloe via surrogate.
Khloe, a dedicated gym rat, posed in a corridor while the sun streamed in through the windows, illuminating her washboard abs.
The bracelets and black sunglasses gave the reality TV star a polished look, and she pulled her hair back into a bun.
Khloe hasn't commented on the meaning of Tristan's action, and she recently shot down rumors that she and Tristan were getting back together.
Once it was discovered that Tristan was the biological father of Maralee Nichols' son, the couple called it quits and raised their two children apart.
Because of their sporadic interactions, commenters are always wondering if the two are back together.
As one user put it: "Who's your man currently? You know I'm gonna get the deets!" before adding: "AND HE BETTER BE TREATING MY SISTA RIGHT!!! OR ELSE."
Someone else chimed in with: "looks so much happier since you're single."
Khloe noticed the remarks, and she responded jokingly: "Who has time for a man lol. I have a 6-month-old baby and True and I are sickly codependent on one another. Ha! I secretly love it. No but for real…..No man right now…. He's in my prayers too ha!"
Khloe's famous relatives and friends pumped up the stars' sexy photos while fans begged for details about Khloe's fitness routine. Kylie Jenner, clearly a fan of the sultry snaps as well, encouraged her sister in the comments section by saying she looked "insane."
Actress La La Anthony wished her followers a "Happy Monday" and added several heart-eyed emojis, and public relations executive Simon Huck praised the star by calling him "bodilicious."
Others begged Khloe to share her fitness routine, with one friend writing, "We need to know what you do!"