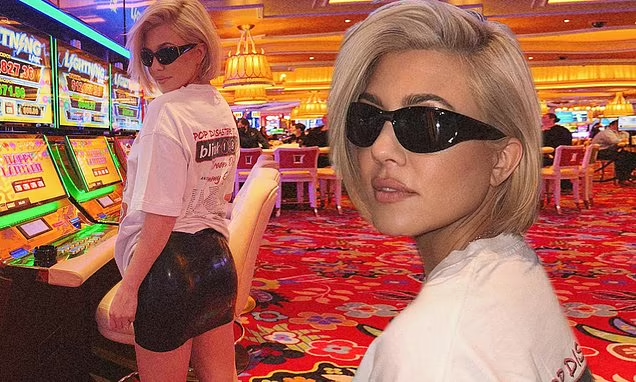 The stunning 43-year-old model sat at a row of slot machines in a Las Vegas casino for an impromptu photo shoot as she watched a UFC fight this weekend.
Kourtney Kardashian showed off her new bleached bob haircut on Instagram
The beauty flipped one side of her jaw-length hair over her face and styled it in a deep side part. She wore glossy black oval-shaped sunglasses indoors to add a touch of glamour to the presentation.
The mother of three looked the part in her black leather miniskirt and knee-high boots.
She showed off her toned legs in the shiny skintight shrunken garment, which she paired with a baggy vintage white Blink 182 shirt to show support for her husband, Travis Barker.
Kourtney struck a variety of poses, giving her fans a look at her from all sides of the vibrant room.
She was wearing a full face of makeup, including blush to accentuate her cheekbones, under her sultry sunglasses.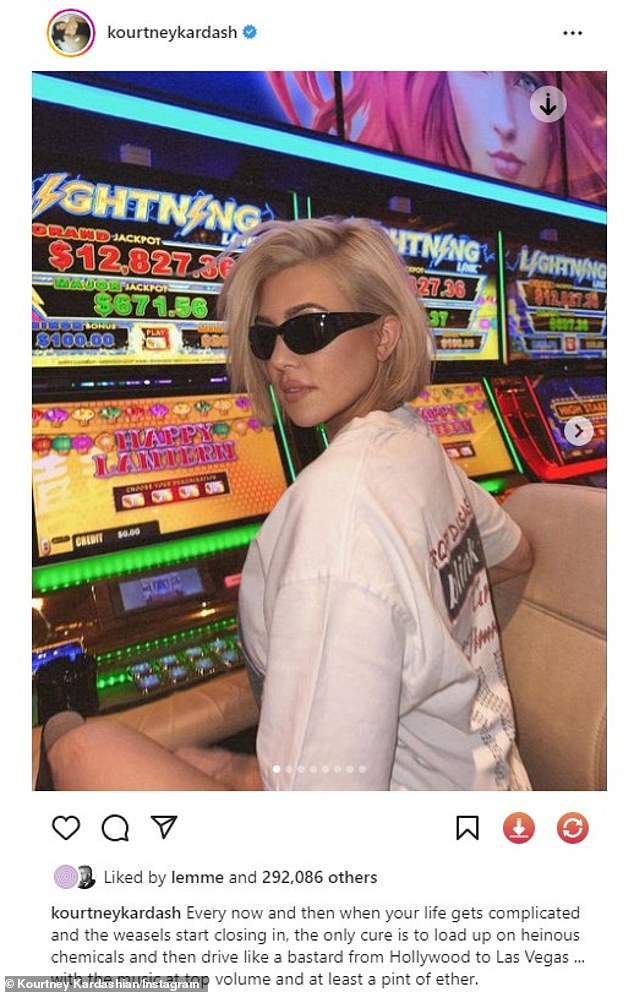 The expert shaping of her thick, dark eyebrows framed her face beautifully. The famous actress completed her look with a matte, baby pink lip.
Kourtney was wearing two bright bracelets. She opted out of wearing earrings in favor of showcasing her massive diamond wedding ring on her freshly bare finger.
She sat down on the beige leather chair in the casino and smiled for the camera.
In some, she stood up to flaunt the back of her outfit and playfully messed up her hair.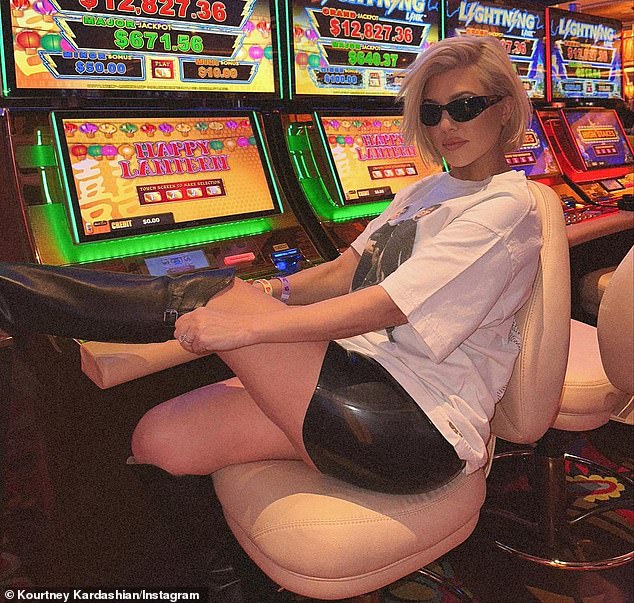 For her caption, Kardashian opted for a lengthy passage from Fear and Loathing in Las Vegas author Hunter S. Thompson.
'Every now and then when your life gets complicated and the weasels start closing in, the only cure is to load up on heinous chemicals and then drive like a bastard from Hollywood to Las Vegas… with the music at top volume and at least a pint of ether.'
Read also :