On Monday, FWRD released a series of pictures from their new campaign, which included Kendall Jenner.
Kendall Jenner posed for the racy photos, baring her toned abs
Recently released photos designed to promote the model's work with the online retailer drew criticism for their perceived racy nature.
During the shooting, Jenner displayed her perfectly toned abs by wearing a white undershirt that she kept up above her upper chest.
The businesswoman used her hands to hide her chest when she appeared on camera.
The regular on the reality show wore a black shirt that stood out against her undone pants.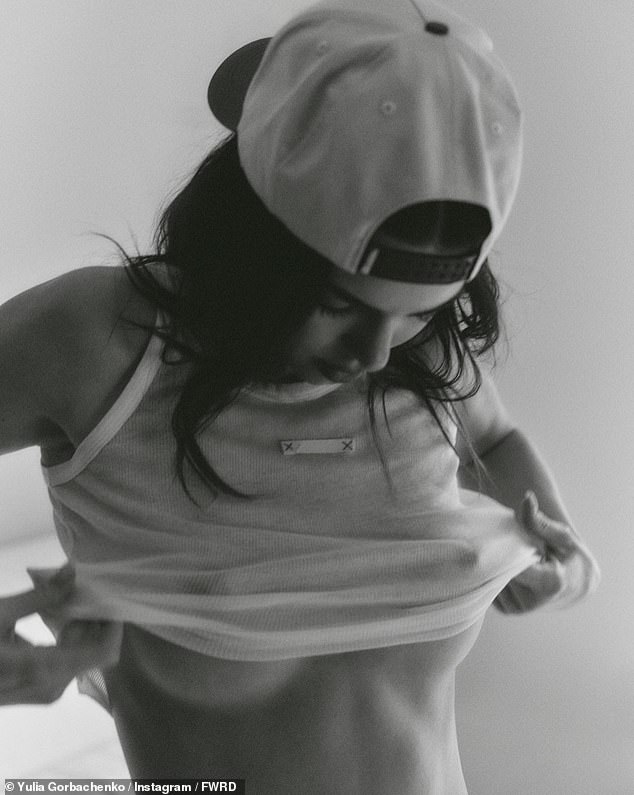 Her stunning dark brunette hair sprung out from under a backwards white baseball cap.
Last month, Jenner appeared in a series of revealing photos for FWRD that were posted to Instagram.
The social media star posed on a bed in a white see-through garment for the photos.
Several of her devoted followers, however, defended her decision to flaunt her body throughout the session.
In a recent interview with Vogue, Jenner discussed her role as creative director at FWRD.
She described her work with the company as 'an additional step in my journey with fashion, where I can work with the brands and creative teams I have admired in fresh, new ways.'
The model then expressed excitement about her future in the fashion world.
'I see this as a great opportunity to put what I've learned into practice, and most likely learn even more,' she said.
Then Jenner went on to talk about her favorite current fashion trends.
'I think right now, what's exciting is that people are taking command of their own style and aesthetic, mixing fashion however they choose,' she said.
RELATED :