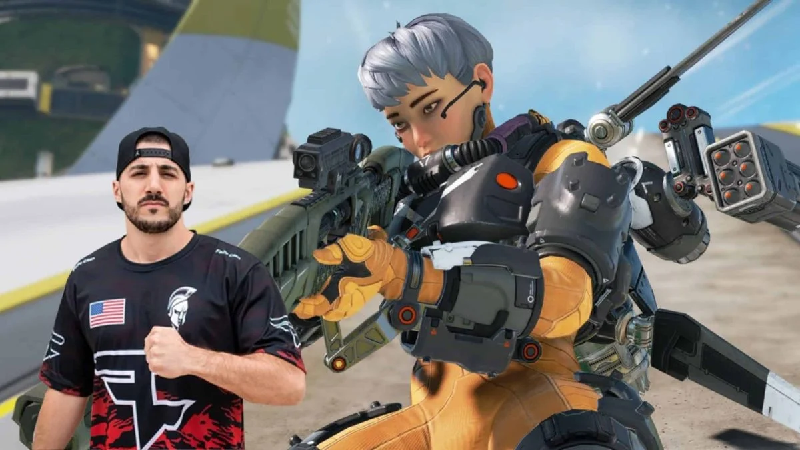 With the start of Season 14
, Valkyrie received a much-needed nerf. In the patch notes, the hardest hit was to her VTOL Jets and her Skyward Dive. Her Skyward Dive received a 25% decrease to the maximum height and it now takes half a second longer to launch.
Nicholas 'NICKMERCS' Kolcheff has been vocal about Valkyrie's nerfs from the Apex Legends Season 14 update, stating that Valkyrie still dominates.
While on stream, NICKMERCS had a look at the Apex Legends Season 14 patch notes to analyze all of the changes coming in the update.
Since the streamer has played a decent amount of Valkyrie in Apex, the nerfs she received definitely caught the streamer's eye. While most in the community have been excited about how big the nerfs are, NICKMERCS still feels that Valkyrie will be dominant.
FaZe Clan star said :
"This is a much more chill nerf than I thought . I thought it was going to be worse. She has still got beacon, which is f**king huge. "
"Listen, it is what it is, that makes her still playable. The fact that she has beacon, you don't need another beacon character, you're chilling. Her Ult did get nerfed, her Q got nerfed, and the jets got nerfed the most it seems like," he added.
Apex Legends Wiki
Apex Legends
Developer(s)
Respawn Entertainment
Publisher(s)
Electronic Arts
Director(s)
Steven Ferreira
Producer(s)
Ben Brinkman
Designer(s)
Jason McCord
Artist(s)

Robert Taube
Kaelan De Niese
Ryan Lastimosa
Benjamin Bisson
Jung Park

Writer(s)
Mohammad Alavi
Composer(s)
Stephen Barton
Series
Titanfall
Engine

Source
Unreal Engine 4 (Mobile)

Platform(s)

Microsoft Windows
PlayStation 4
Xbox One
Nintendo Switch
PlayStation 5
Xbox Series X/S
Android
iOS

Release

Windows, PS4, Xbox One
February 4, 2019
Nintendo Switch
March 9, 2021
PS5, Xbox Series X/S
March 29, 2022
Android, iOS
May 17, 2022

Genre(s)
Battle royale, first-person hero shooter
Mode(s)
Multiplayer