Here's everything we know about the change to Horizon in Apex Legends, which could be a nerf for her shadow and result in decreased weapon accuracy.
Is the change to Horizon in Apex Legends a bug or a nerf?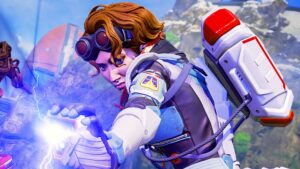 FURIA HisWattson was just one of many players who voiced concern about a possible nerf to Horizon's shadow. Horizon's precision when using her tactical ability, the Gravity Lift, was reduced as a result of the nerf. It used to be easy to hit shots while navigating the Gravity Lift, but as HisWattson shows in the video above, the new patch severely reduced weapon accuracy while in the lift.
Horizon is dead 🤔 pic.twitter.com/uWpNGSNR5I

— FURIA HisWattson (@HisWattson) January 10, 2023

Horizon's ability to hit shots while strafing back and forth in her Gravity Lift was a significant part of what made her such a powerful fighting character. Clearly, this change acted as a debuff to Horizon. According to Respawn, the nerf was unintentional and has now been reversed to the way Horizon worked prior to the Spellbound event.
However, it's possible that this is a change that the Apex developers are working on for the future that was accidentally made public. After Respawn made its announcement, Apex senior producer Josh Medina seemed to hint at this on Twitter.
Sometimes things escape that aren't fully ready for prime time especially with ALGS coming up 😘 https://t.co/QgR84qhAgk

— Josh Medina (@lowkeydbjosh) January 13, 2023
It wouldn't make sense for the team to deliver such a significant nerf with no announcement just before the Apex Legends Global Series Split One Playoffs. Nonetheless, it appears that this accuracy change (or a version of it) is still on the table for a future update. For the time being, Horizon mains can spam their Gravity Lift and rain bullets down on their enemies in complete peace and accuracy.
About Apex Legends
Apex Legends
Developer(s)
Respawn Entertainment
Publisher(s)
Electronic Arts
Director(s)
Steven Ferreira
Producer(s)
Ben Brinkman
Designer(s)
Jason McCord
Artist(s)

Robert Taube
Kaelan De Niese
Ryan Lastimosa
Benjamin Bisson
Jung Park

Writer(s)
Mohammad Alavi
Composer(s)
Stephen Barton
Series
Titanfall
Engine

Source
Unreal Engine 4 (Mobile)

Platform(s)

PlayStation 4
Windows
Xbox One
Nintendo Switch
PlayStation 5
Xbox Series X/S
Android
iOS

Release

PS4, Windows, Xbox One
February 4, 2019
Nintendo Switch
March 9, 2021
PS5, Xbox Series X/S
March 29, 2022
Android, iOS
May 17, 2022

Genre(s)
Battle royale, first-person hero shooter
Mode(s)
Multiplayer