The Heirloom system in Apex Legends may soon get recolors, according to recent leaks. That's a great ideal, but how exactly is Respawn Entertainment going to implement this rumored cosmetic system?
Apex Legends leaks suggest Heirloom recolors
The possibility of Heirloom recolors was first revealed earlier this week when Twitter user SomeoneWhoLeaks shared a screenshot highlighting a retexture for Wraith's Kunai, the game's first Heirloom. In response to the suggestion that this was simply an update for the Heirloom in general, the leaker stated that this should be interpreted as a completely new texture or "re-theme," as the files suggested.
Wraith Heirloom Recolor coming(?) seems like a possibility pic.twitter.com/sXElvcg9zM

— SWL (@SomeoneWhoLeaks) January 10, 2023
Following this leak, another Twitter user, KralRindo, stated, "Heirloom recolors are coming officially." An image was shared as a preview of what these recolors could look like, but it is more of a prediction than an actual leak.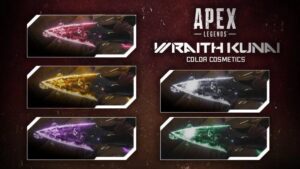 Despite what the community and leaks may suggest, Respawn has not confirmed any Heirloom recolors, and some skeptics are already imagining the worst based on the game's history of recolor implementations. There have been numerous "these better be free" comments due to the rarity of Heirlooms, but with Apex's current monetization system, it's hard to imagine any Heirloom variant being provided at no cost. Based on how recolors have been implemented in the past, it's possible that it could have an Apex Coin (real money) value in addition to a higher sum of Legend Tokens or Crafting Metals, but this is pure speculation.
So far, we haven't heard anything about EA or Respawn changing the colors of the Heirlooms.
About Apex Legends
Apex Legends
Developer(s)
Respawn Entertainment
Publisher(s)
Electronic Arts
Director(s)
Steven Ferreira
Producer(s)
Ben Brinkman
Designer(s)
Jason McCord
Artist(s)

Robert Taube
Kaelan De Niese
Ryan Lastimosa
Benjamin Bisson
Jung Park

Writer(s)
Mohammad Alavi
Composer(s)
Stephen Barton
Series
Titanfall
Engine

Source
Unreal Engine 4 (Mobile)

Platform(s)

PlayStation 4
Windows
Xbox One
Nintendo Switch
PlayStation 5
Xbox Series X/S
Android
iOS

Release

PS4, Windows, Xbox One
February 4, 2019
Nintendo Switch
March 9, 2021
PS5, Xbox Series X/S
March 29, 2022
Android, iOS
May 17, 2022

Genre(s)
Battle royale, first-person hero shooter
Mode(s)
Multiplayer