Anthony Edwards (born August 5, 2001), nicknamed "Ant-Man", is an American professional basketball player for the Minnesota Timberwolves of the National Basketball Association (NBA).
The Latest News Injury Status of Anthony Edwards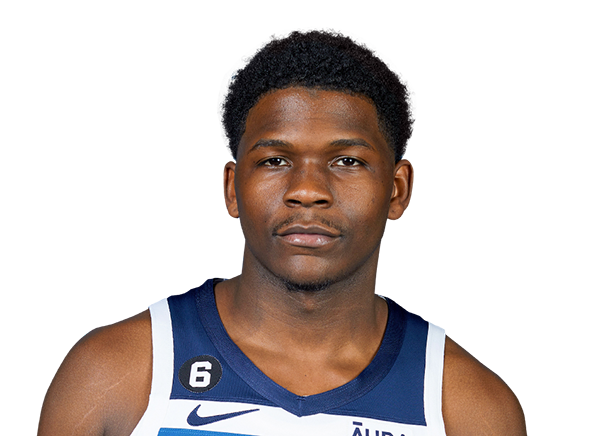 Injury:
Injury Status: Active
UPDATE (Apr. 25):
Anthony Edwards is ready for Tuesday's game against the Nuggets.
UPDATE (Apr. 04):
In the loss to Portland, Anthony Edwards scored 37 points.
Edwards led the Wolves in scoring, shots, made threes, and minutes played. Four times this year, he has reached 35 points, 5 rebounds, and 5 assists.
UPDATE (Apr. 02):
The status of Edwards (illness) for Sunday's game against the Trail Blazers is in doubt.
Edwards has struggled since returning from an ankle injury, shooting 41.8 percent from the field, 29.6 percent from deep, and 53.3 percent from the free throw line in that span. He is still affected by a virus that has spread through the Minnesota locker room.
UPDATE (Mar. 31):
Anthony Edwards (illness) is questionable for Friday's matchup versus the Los Angeles Lakers.
UPDATE (Mar. 29):
On Wednesday, Anthony Edwards (ankle) will join the list of questionable players.
Despite a strained right calf, Edwards should play against the Suns.
UPDATE (Mar. 27):
Anthony Edwards is ready for Monday's game against the Kings.
UPDATE (Mar. 26):
Anthony Edwards has missed the last three games for the Minnesota Vikings with a sprained right ankle. He was given the all-clear to return to practice on Friday, but he missed the day due to illness, making his status for Sunday's game against the Golden State Warriors doubtful.
UPDATE (Mar. 22):
Star players Karl-Anthony Towns and Anthony Edwards may play a role in the Minnesota Timberwolves' lineup on Wednesday against the Atlanta Hawks, which would be great news for the team's chances of making the playoffs.
Edwards, who normally contributes 24.7 points, 5.9 rebounds, and 4.4 assists per game, was forced to be helped off the court on Friday after injuring his right ankle in a match against the Chicago Bulls. He has been absent for the last two contests.
UPDATE (Mar. 20):
Dane Moore of "The Dane Moore NBA Podcast" says that Edwards's ankle injury makes it unclear if he will be able to play against the Knicks on Monday.
Edwards missed Saturday's game because of his ankle injury, so Taurean Prince started in his place and Jaden McDaniels took on a more active offensive role.
UPDATE (Mar. 18):
According to Darnell Mayberry of The Athletic, Edwards was seen wearing a walking boot on the bench Friday after exiting the game with a right ankle sprain. The injury forced Edwards to leave the game.
After only playing eight minutes of Friday's game against the Bulls, Edwards suffered a sprained right ankle and was forced to return to the team's bench wearing a protective boot.
Even though the All-Star two-guard has not been listed as questionable for Saturday's game against Toronto, it seems highly doubtful that he will play in the game. In such event, Austin Rivers and Nickeil Alexander-Walker would most likely get more playing time than they did previously.
UPDATE (Mar. 15):
Anthony Edwards amassed 32 points (12-25 FG, 2-10 3Pt, 6-10 FT), 8 rebounds, 5 assists, 2 blocks and 1 steal in 36 minutes during Monday's 136-115 win over the Hawks.